Are you looking for Dollar Tree Fall Decor ideas? Look no further and I'll share with you a few DIYs I've created on a budget using dollar tree items! I have so much fun making seasonal decor and especially fall decorations. These are fun projects you can do using items from your local dollar store.
Easy Dollar Tree Fall Decor Ideas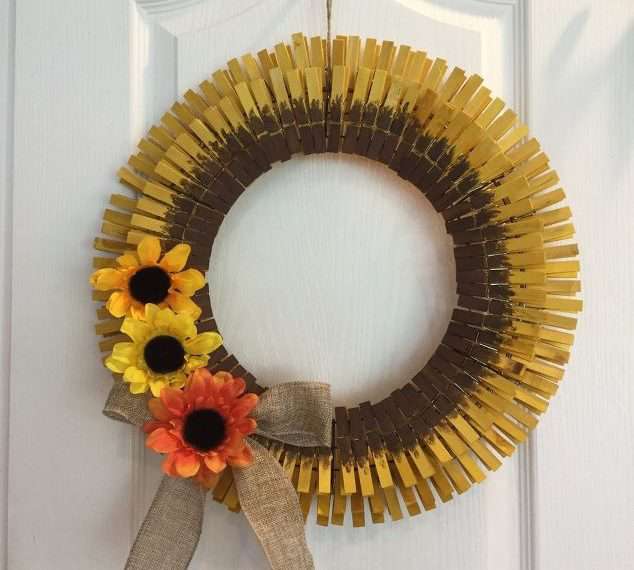 Have you ever wondered how to make a clothespin wreath? Or even better yet, how to make a sunflower clothespin wreath? Today I'm sharing how to make a clothespin sunflower wreath with Rit Dye, paint, clothespins, and a wreath form. You can find the full tutorial at How To Make A DIY Clothespin Sunflower Wreath
Looking for an easy fall craft you can leave up all season? Maybe something that can be an easy centerpiece or part of a fall tablescape? I'm sharing an easy pilgrim hat centerpiece and it only cost me $3. You can find the full tutorial at Easy Pilgrim Hat Centerpiece
Have you seen the wine glasses turned into pumpkin candle holders? I have and I've been wanting to give them a try. I finally did and just in time for a fall centerpiece for our Thanksgiving table! This is an easy craft and inexpensive to make. You can find the full tutorial at Wine Glasses to Pumpkin Candles
I love the changing colors during the fall. I grew up in Minnesota and we had SO many beautiful colors. Now that I'm in Colorado we just don't have nearly the colors other places have and I miss that. You can preserve the beauty from the outside and use it in a craft. This project will cost almost nothing to make because you are using items just outside your door. It is a great way to welcome visitors to your front porch. You can find the full tutorial at Natural Fall Wreath.
I'm a seasonal decorator and I love making things that I get to leave up for 3 months at a time. This glitter pumpkin is one of my favorite decorations, it is inexpensive and super easy to make and you can make it the color of your choice. Great for kids, girl's night out, party favors, etc. You can find the full tutorial at Super Easy Glitter Pumpkin
I have been wanting some silver owls for my home, but some places sell them for tons of money!!! I ran across these owl salt and pepper shakers at Dollar Tree (love that place) and knew with a little spray paint I could give them a new look and up-cycle them to those expensive ones I wanted for a lot less money. You can find the full tutorial at Upcycled Dollar Store Owls
We love all seasons at our house, and all for different reasons. One of my favorites is the fall season! There is so much to do and embrace in the fall so I'm sharing a reusable Fall To-Do list for you to enjoy! Our family does this every year and our goal is to try and get everything crossed off. This fall to-do list runs from September-November in our house – plenty of time. You can find the full tutorial at Reusable Fall To Do List
I had some old glass bottles that I had been saving for a home decor project. With fall coming it's the perfect time to create DIY pumpkin decor for your home. You can find the full tutorial at DIY Pumpkin Decor Using A Glass Bottle
You might enjoy some of my other fun DIY projects
Learn more about "Creating Seasonal Decor for Your Home" to create seasonal decor that doesn't cost an arm and a leg.
Shop any of these stores and I receive a small commission at no cost to you.
Join us on our amazing fall hop! If you're coming from DeAnna, welcome & thanks for joining! After my project heads to Andrea and check out her fall color palettes.