Today I'm sharing how to make a clothespin sunflower wreath with Rit Dye, paint, clothes pins, and a wreath form.
For this project you'll need: Clothespins Rit Dye – I used Lemon Yellow Wreath Form Brown acrylic paint & paint brush Flowers Burlap ribbon Twine Bowl or Bucket for dying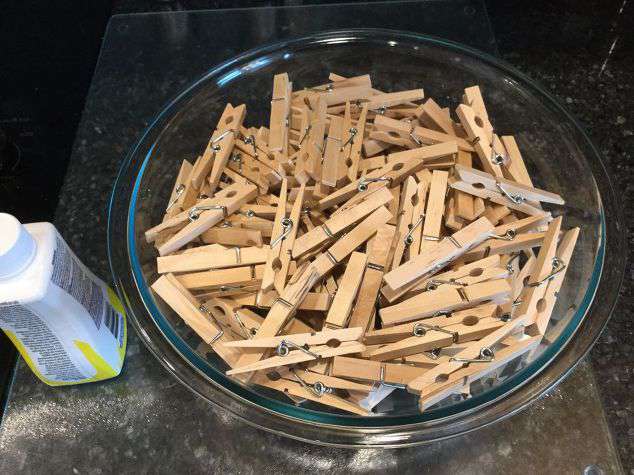 Put your clothes pins in a large bowl or bucket. *For my wreath it is a 14″ frame from Dollar Tree and it took 156 clothespins.
Cover the clothespins in water. Add 2 Tablespoons or more of Rit Dye to reach your desired color. Remember to shake the bottle up before pouring.
Let them soak for approximately 4 hours.
Let the clothes pins dry completely. Mine took a little over 24 hours stacked like this.
On your wreath form, clip your clothes pins on the last wire all the way around.
For your second layer, clip your clothes pins on the first and second wires all the way around.
It'll look like this after you get all the clothespins on.
Paint brown acrylic paint on the the first layer a little over half way. I also made the edges uneven to create that sunflower's center look.
*Optional, if you aren't up for painting, you could use brown Rit Dye and dye the first circle of clothes pins instead. So you'd have an outer layer of yellow, and a center layer of brown clothespins.
Add a burlap ribbon bow, and pull some sunflower heads off a bouquet and hot glue them onto your wreath.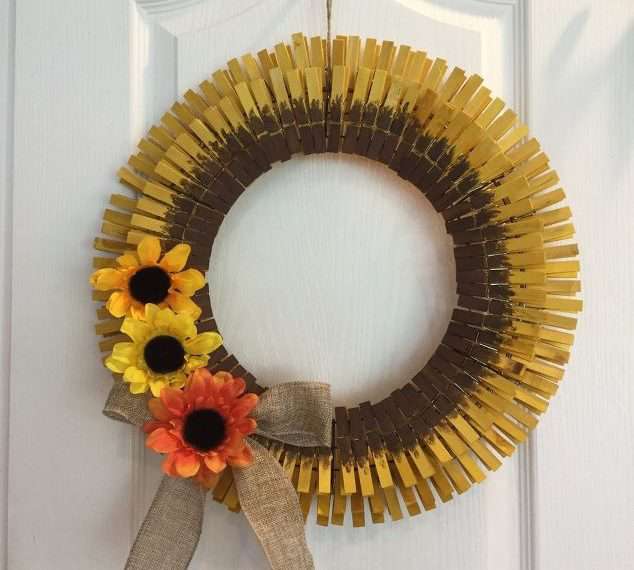 Tie a piece of twine at the top for hanging. Your clothespin sunflower wreath is done for you to enjoy.
Learn more about "Creating Seasonal Decor for Your Home" to create seasonal decor that doesn't cost an arm and a leg.