Have you ever wondered what you can do with dollar store bins and baskets? I was given the challenge of coming up with different ways to upcycle, repurpose, and use dollar store bins and baskets. I've take a few and created some hacks to use them in your home.
Hanging Basket Storage –
I found these baskets 2 for $2 at Walmart. I used Command Hooks and hung them up on the wall in my bathroom for a little extra storage.
Make A Side Table –
I found these wire baskets at Walmart for $2 apiece. They do sell wire trash cans at the Dollar Tree which would also work for this project. I flipped one trash can upside down and put E6000 on the bottom.
I placed the other trash can right side up on top of the 1st trashcan so that the 2 bases touched. You have a couple choices for the last step… you can just rest a pizza pan on the top so that you can still get into the top basket for storage, or you can E6000 the pizza pan to the top for a more secure hold.
I now have a little side table that can be used inside or outside.
Make An Industrial Lamp –
I found this basket at Walmart on clearance for $2 and since it had a hole in the bottom I knew exactly what I wanted to do with it. I bought a light socket kit and followed the directions on it to put the light together utilizing the hole in the basket.
I hung it up and now it's a light for my work space.
Make A Storage Shelf –
All of these dollar store baskets came from Dollar Tree. Start by gluing 3 of the same sized basket together. After hot gluing to initially get them together I did place some E6000 for a more secure hold and let it dry.
Cut strips of pool noodle to go between the baskets and hot glue into place. This will help the baskets stand up straight. For the bottom I cut a section of pool noodle and then cut it in half. I hot glued the flat part of the noodle (so the rounded part would go on the floor) to the what would become the bottom of the storage shelf.
Add some dollar store bins inside your shelf and you have some extra storage where you might need it. This is an example of bathroom storage but you could also fill the baskets with toys and use it as toy, bedroom, craft storage, etc.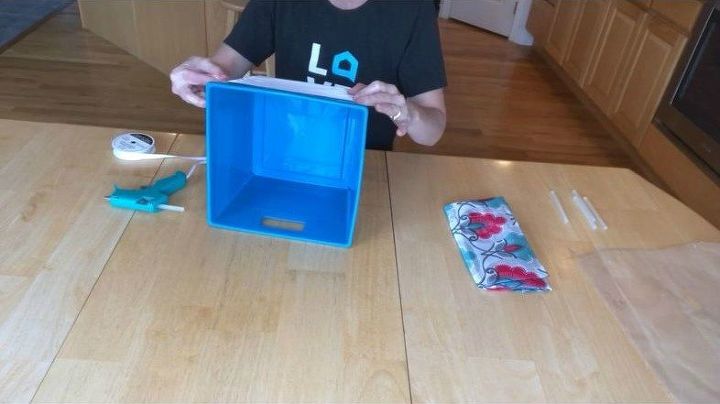 Make a Gift Basket
Start by hot gluing ribbon around your dollar store basket or bin. I went about half way up the basket
Use a pillow case or fabric to decorate the inside. I used a pillowcase and turned it inside out. I tucked it into the basket and rolled the top outside to cover the rest of the basket. The extra pillow case fabric I just folded into the bottom nicely.
Fill the dollar store basket or bin up with items you need to store, or fill it with items and give it as a gift.
Winter Gear Storage –
Using Dollar Tree trash cans, command hooks, and chalk board stickers I created easy storage for our hats, mittens, and such. You can find the full tutorial here
Find out "What Exactly Does It Mean To Repurpose Or Upcycle", save money, and create the most amazing things.
Dollar Store Bin and Basket Hacks Video
Ways to support me with out it costing you a dime!
Click and shop any of these stores – I receive a small commission at no cost to you.
Learn more about "Why to Deep Clean and Organize Your Home" to save money, function better, and keep your sanity.