Do you need some organization and don't want to spend a fortune? If you are on a tight budget you can get great deals at discount stores like dollar general and with a little creativity set about organizing your home. I have 11 Dollar Store and Dollar Tree organization hacks for your home. I love finding clever ways to use dollar tree items or dollar store items to increase and improve my storage space.
Let's get started with our Dollar Store Organization Hacks
Do you want to know how to organize bathroom drawers? After opening my drawers one morning I knew it was time to organize my bathroom again. Just a little cleaning, decluttering, a few baskets from the local dollar store, and it's organized again. You can find the full tutorial at How To Organize Bathroom Drawers
Do you struggle to open and close your kitchen drawers? Or maybe you can't find what you're looking for? We all have that junk drawer that is always a mess. I'll show an easy way to use inexpensive small containers of different sizes to organize small items in your kitchen drawers. You can find the full tutorial at How To Organize Kitchen Drawers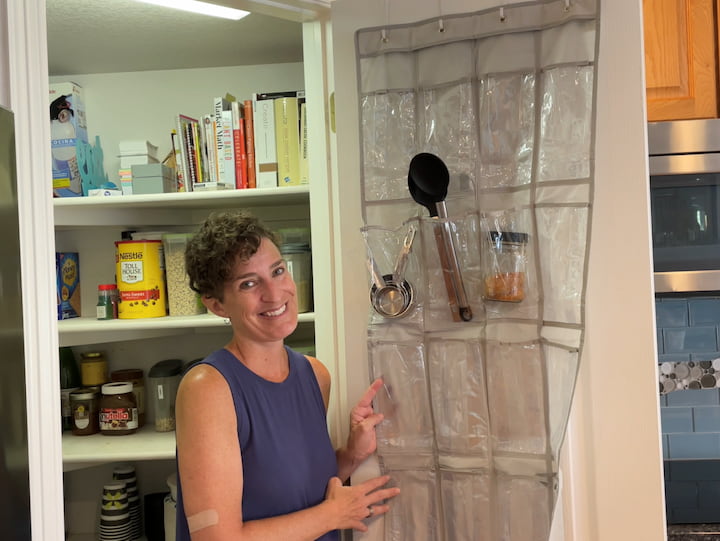 Would you like a space-saving organization? Have you ever wanted alternative uses for a door shoe organizer? I was given the challenge by Hometalk to come up with 6 ways to use a hanging shoe organizer. This is a great way to add extra space to so many areas of your home & allows you easy access to whatever you need to store. IIn 5-10 minutes I had come up with 20! You can pick one of these up at your local Dollar Tree or Dollar Store. You can find the full tutorial at 20 Easy and Unexpected Ways To Use A Hanging Shoe Organizer
Do you love to reuse and recycle? Do you love to organize? I'm sharing how to DIY a can organizer for supplies. There are 3 different ways I show, and I'll share a few different ways to use this concept in your home. You can find the full tutorial at How To DIY A Can Organizer for Supplies
Do you love Dollar Store hacks? I was given the challenge of coming up with different ways to upcycle, repurpose, and use dollar store plastic bins and plastic baskets. I've taken a few and created some storage ideas to use in your home. You can find these 8 fun hacks and tutorials at Dollar Tree Organizing Hacks, 8 Brilliant Baskets Ideas
I needed a system to organize my winter gear. We have our coats hanging in the laundry room entryway but our hats, gloves, and scarves … were a mess! Here is an easy and inexpensive way I created winter gear storage. You can find the full tutorial at How To Organize Your Winter Gear
How do I organize my walk-in pantry? We all need organization in our kitchen and I recently did a pantry makeover. I'm sharing 12 easy walk-in pantry organization tips and hacks, and these tips and hacks can be used in many areas of your home. You can find the full tutorial at 11 Amazing Walk-In Pantry Organization Tips and Hacks
Are you ready for a decluttering challenge? I have 7 terrific and simple tips for an organized bathroom in your home. You can find the full tutorial at Decluttering Challenge, 7 Terrific and Simple Tips for an Organized Bathroom
What should I put under my kitchen sink? The area under my kitchen sink had become a collection of "stuff" and a big fat mess. I'm sharing my under the kitchen sink organization. You can find the full tutorial at Under the Kitchen Sink Organization
Here is another clever organizing tip for that clutter at the front door. Grab a plaque or picture, some clothespins, and hot glue, and you have a clothespin sign that has endless uses and possibilities. You can find the full tutorial at Easy Clothespin Sign with Endless Uses
DO YOU WANT TIPS ON CLOSET ORGANIZATION? Hometalk TV asked me to host an episode that would include how to easily organize a closet. I'm sharing tips on closet organization with some tricks and hacks along the way. You can find the full tutorial at Tips on Closet Organization
11 Awesome and Easy Dollar Tree Organization Hacks video
Shop any of these stores and I receive a small commission at no cost to you.
Do you want to know what are the best dollar stores? You might be interested in this post What's the Best Dollar Store? I Tried the 3 Biggest Chains
More Dollar Tree Organization Hacks:
ice cube trays are great for organizing jewelry
a shower caddy is great for carrying your cleaning supplies from room to room
the dollar store will save you tons of money over the Container Store
a paper towel holder is great to hold scrunchies or toilet paper
a laundry basket will give everyone a place to keep dirty clothes together
chalkboard labels are great for putting on the front of storage bins to say what's inside.
decorate plastic containers with washi tape for a pretty update in your linen closet
make a DIY rope basket to place blankets in.
place cotton balls in small mason jars or glass jars from Dollar Tree
place dry goods in Dollar Tree baskets.
use metallic spray paint to update the cheap plastic locker bins into a galvanized look for just a couple bucks