Inexpensive and Easy Dollar Tree Organization Hacks For Your Home
Do you need some organization ideas or storage solutions and don't want to spend a fortune? If you are on a tight budget you can get great deals at discount stores like dollar general and with a little creativity set about organizing your home. I have 11 Dollar Store and Dollar Tree organization hacks for your home. I love finding clever ways to use dollar tree items or dollar store items to increase and improve my storage space.
Let's get started with our Dollar Store Organization Hacks
Do you want to know how to organize bathroom drawers? After opening my drawers one morning I knew it was time to organize my bathroom again. Just a little cleaning, decluttering, a few baskets from the local dollar store, and it's organized again. You can find the full tutorial at How To Organize Bathroom Drawers
Do you struggle to open and close your kitchen drawers? Or maybe you can't find what you're looking for? We all have that junk drawer that is always a mess. I'll show an easy way to use inexpensive small containers of different sizes to organize small items in your kitchen drawers. These are perfect for silverware, spoons and other small kitchen items. You can find the full tutorial at How To Organize Kitchen Drawers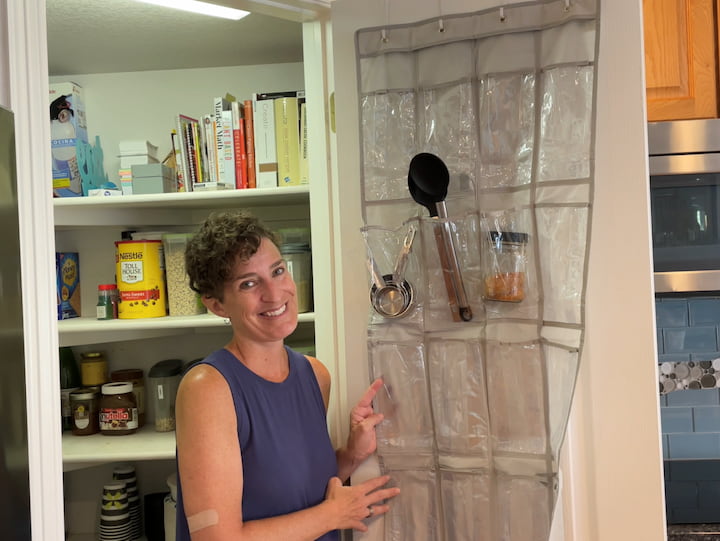 Would you like a space-saving organization? Have you ever wanted alternative uses for a door shoe organizer? I was given the challenge by Hometalk to come up with 6 ways to use a hanging shoe organizer. This is a great way to add extra space to so many areas of your home & allows you easy access to whatever you need to store. In 5-10 minutes I had come up with 20! You can pick one of these up at your local Dollar Tree or Dollar Store and they are perfect for storing craft supplies, belts, kids socks just to name a few. You can find the full tutorial at 20 Easy and Unexpected Ways To Use A Hanging Shoe Organizer
Do you love to reuse and recycle? Do you love to organize? I'm sharing how to DIY a can organizer for supplies, pens and pencils. There are 3 different ways I show, and I'll share a few different ways to use this concept in your home. You can find the full tutorial at How To DIY A Can Organizer for Supplies
Do you love Dollar Store hacks? I was given the challenge of coming up with different ways to upcycle, repurpose, and use dollar store plastic bins and plastic baskets. I've taken a few and created some storage ideas to use in your home. You can find these 8 fun hacks and tutorials at Dollar Tree Organizing Hacks, 8 Brilliant Baskets Ideas
I needed a system to organize my winter gear. We have our coats hanging in the laundry room entryway but our hats, gloves, and scarves … were a mess! Here is an easy and inexpensive way I created winter gear storage. You can find the full tutorial at How To Organize Your Winter Gear
How do I organize my walk-in pantry? We all need organization in our kitchen and I recently did a pantry makeover. I'm sharing 12 easy walk-in pantry organization tips and hacks, and these tips and hacks can be used in many areas of your home. You can find the full tutorial at 11 Amazing Walk-In Pantry Organization Tips and Hacks
Are you ready for a decluttering challenge? I have 7 terrific and simple tips for an organized bathroom in your home. You can find the full tutorial at Decluttering Challenge, 7 Terrific and Simple Tips for an Organized Bathroom
What should I put under my kitchen sink? The area under my kitchen sink had become a collection of "stuff" and a big fat mess. I'm sharing my under the kitchen sink organization. You can find the full tutorial at Under the Kitchen Sink Organization
Here is another clever organizing tip for that clutter at the front door. Grab a plaque or picture, some clothespins, and hot glue, and you have a clothespin sign that has endless uses and possibilities. You can find the full tutorial at Easy Clothespin Sign with Endless Uses
DO YOU WANT TIPS ON CLOSET ORGANIZATION? Hometalk TV asked me to host an episode that would include how to easily organize a closet. I'm sharing tips on closet organization with some tricks and hacks along the way. You can find the full tutorial at Tips on Closet Organization
11 Awesome and Easy Dollar Tree Organization Hacks video
Shop any of these stores and I receive a small commission at no cost to you.
Do you want to know what are the best dollar stores? You might be interested in this post What's the Best Dollar Store? I Tried the 3 Biggest Chains
More Dollar Tree Organization Hacks:
ice cube trays are great for organizing jewelry
a shower caddy is great for carrying your cleaning supplies from room to room
the dollar store will save you tons of money over the Container Store
a paper towel holder is great to hold scrunchies or toilet paper
a laundry basket will give everyone a place to keep dirty clothes together
chalkboard labels are great for putting on the front of storage bins to say what's inside.
decorate plastic containers with washi tape for a pretty update in your linen closet
make a DIY rope basket to place blankets in.
place cotton balls in small mason jars or glass jars from Dollar Tree
place dry goods in Dollar Tree baskets.
use metallic spray paint to update the cheap plastic locker bins into a galvanized look for just a couple bucks
Add some shelves with wire baskets, and place towels in them
Place your spices in small baskets in your cabinets
Add dollar store baskets to your fridge to keep things organized
Add different sized baskets to create drawer organization
Create your own storage shelves for toys or grab a shoe organizer
Use a shoe organizer for all of your cords or grab rubber bands and wrap them to keep them organized
Use a hanger to keep so many things organized
Use command hooks for so many possibilities to organize.
Use dollar store bins for homework organization
How to organize a closet with Dollar Tree items?
We all love to have an organized closet free of clutter and finding storage solutions for a small closet can be especially challenging. I'm sharing DIY closet organization ideas with some tricks and hacks along the way. The best part is you can use these storage ideas to meet your exact needs and create your own custom closet without buying an expensive closet system. You can find the full tutorial at Easy DIY Closet Organization; Tips and Tricks For Maximizing Your Closet Space
Dollar Tree Organization Hacks Q&A
How do I organize my house with too much stuff?
Organizing a house with too much stuff can be overwhelming, but with a systematic approach and a little patience, you can achieve a clutter-free and organized living space. Here's a step-by-step guide to help you get started:
Set Clear Goals: Determine your objectives for organizing your house. Whether it's creating more space, improving efficiency, or simply reducing stress, having clear goals will help you stay focused throughout the process.
Declutter: Start by decluttering one room at a time. Sort your belongings into categories: keep, donate/sell, and toss. Be honest with yourself about what you truly need and use. If you haven't used something in a year or more, consider letting it go.
Create Zones: Organize your belongings into different zones based on their function. For example, have a zone for kitchen items, another for office supplies, and so on. This way, everything has a designated place, making it easier to find and put things away.
Storage Solutions: Invest in storage solutions that fit your needs. This could include shelves, cabinets, drawer organizers, storage bins, and baskets. Vertical storage is especially useful when dealing with limited space.
One In, One Out Rule: To prevent clutter from building up again, consider implementing the "one in, one out" rule. For every new item you bring into your house, get rid of one existing item.
Regular Maintenance: Set aside time each week or month to tidy up and maintain the organization. Small efforts consistently can make a significant difference in the long run.
Digitize When Possible: Reduce paper clutter by digitizing important documents. Scan and store them securely on your computer or in the cloud.
Rotate Seasonal Items: If you have limited storage space, rotate seasonal items like clothing, decorations, and sports gear. Keep only what's necessary for the current season accessible, and store the rest until needed.
Label Everything: Labeling shelves, bins, and containers will help you and your family members know where things belong. It makes it easier to put items back in their designated spots.
Involve Everyone: If you live with family or roommates, involve them in the organizing process. Make sure everyone understands the new system and commits to maintaining it.
Don't Rush: Organizing a house with too much stuff is a gradual process. Take your time, especially if you have a lot to declutter. Celebrate your progress along the way, and don't get discouraged if it takes time to see significant changes.
Remember, organizing your house is a personal process, and what works for one person may not work for another. Tailor your approach to suit your lifestyle and preferences. By taking small, consistent steps, you'll eventually achieve a well-organized and clutter-free home.
How do I purge my house from clutter?
Purging your house from clutter is an essential step in organizing and creating a more functional living space. Here's a step-by-step guide to help you effectively declutter your home:
Set aside dedicated time: Choose a day or a weekend when you can focus solely on decluttering. Depending on the amount of clutter, you may need several sessions.
Start small: Begin with a manageable area like a single drawer, a closet, or a countertop. Completing smaller tasks will give you a sense of accomplishment and motivation to tackle larger areas.
Sort into categories: Create categories for your belongings such as "keep," "donate/sell," and "toss." Be honest with yourself about what you truly need and use. If you haven't used or worn something in a year or more, it might be time to let it go.
Declutter by zones: Work through your home one room or one zone at a time. This will prevent you from feeling overwhelmed by trying to tackle the entire house at once.
Ask critical questions: When deciding whether to keep an item, ask yourself these questions:

Do I use it regularly?
Does it hold sentimental value?
Can I easily replace it if needed?
Does it contribute to my current lifestyle?

Be ruthless but compassionate: Letting go of possessions can be emotional, especially if they have sentimental value. Remind yourself that memories aren't tied to physical items and that you're making space for new experiences.
Donate or sell items: For items in good condition that you no longer need, consider donating them to charity or selling them online or at a yard sale. This way, someone else can benefit from them, and you can recoup some value.
Recycle or dispose of properly: For items that are no longer usable, recycle or dispose of them responsibly, following local regulations and guidelines.
Control impulse acquisitions: Reflect on your shopping habits and make a conscious effort to avoid bringing unnecessary items into your home. Focus on buying only what you truly need and will use.
Get support: If you find it difficult to declutter alone, ask a friend or family member to assist you. They can provide a fresh perspective and help you make tough decisions.
Maintain the clutter-free environment: After decluttering, be mindful of new items entering your home. Regularly assess your belongings and get rid of things that are no longer serving you.
Remember, decluttering is not a one-time task but an ongoing process. Regularly purging your house from clutter will help you maintain a more organized and stress-free living space. Celebrate your achievements along the way, and enjoy the benefits of a clutter-free home!
Check out some of my other organization posts!