Easy Frisbee Golf For Your Backyard, Fun for the Whole Family
It's summertime and I'm creating things fun things to do with my kids! Have you ever wanted to create a DIY frisbee golf course or DIY disc golf? With some tomato cages and dollar store laundry baskets, you can easily make a fun homemade Frisbee golf course for your backyard.
These homemade baskets are an easy and inexpensive way to make it without hose clamp, outer chains, tools, zip ties, metal basket, circular saw, metal grate, angle grinder, closet flange, metal file, outer clips, snap links, inner bolts, steel post, fence post, eye bolts, top of the steel pole, PVC coupling, mappro torch, flat steel, duct tape, etc These all add up and can get very expensive. The total cost for this project was $15.
Let's get started with a disc golf course!
For DIY Frisbee Golf You'll Need:
Tomato Cages (as many as you want)
Dollar Tree Laundry Baskets (the same number as tomato cages)
Frisbees or Beach Balls
I made 5 DIY Frisbee Golf Baskets or DIY Disc Golf Baskets. The tomato cages I got at Walmart for $2 each and the Dollar Tree baskets were $1 each. Each goal was $3 to make so my total to make the goals was $15.
To make an easy DIY disc golf basket, stick your tomato cage in the ground for setting up.
Place your Dollar Tree laundry basket inside the center of the tomato Cage.
That's all there is too making a diy disc golf basket. Here is what a completed one should look like.
Here are my 5 completed diy frisbee golf baskets.
To make the diy frisbee golf course, place your 5 frisbee/disc golf baskets in different areas in your yard.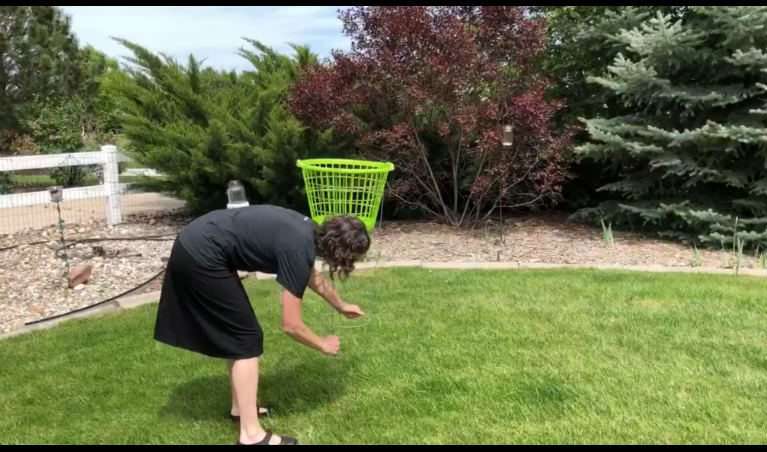 There is not specific distance or placement, it's totally up to you.
Here is how I set mine up the first time. Next time I might set some up back in our mulch and tree area.
Here's our DIY guide: Give your kids some frisbees or discs and you are ready to play backyard disc golf or backyard frisbee golf. Take turns throwing your frisbee towards the disc golf target. Once the frisbee lands it's the next person's turn. Once you get your frisbee in the disc golf holes you move on to the next one. You continue to each disc-golf basket until you have completed the course. The more you play the better your disc golf skills will get. You can play solo or have a good number of players if you have enough frisbees for them all.
If you have younger children you could use beach balls and have them "shoot hoops" around the yard.
Or smaller balls work well too.
One of the other things I love about this is how well it packs up when you're done playing. Stack the tomato cages, stack the baskets, place the baskets inside the tomato cages, and that's it.
If you fall in love with the game at this level you could consider investing in a standard disc golf basket or professional disc golf basket
See how easy it was to make a homemade disc golf basket? The best thing is now you have a local course in your backyard. You have a sturdy disc golf basket made from durable materials, and it's inexpensive. It's a great way to have some family fun, so set up some lawn chairs and have a great time.
You can play for fun, or you can look up the official rules or tournament rules.
Easy Frisbee Golf For Your Backyard Video
Shop any of these stores and I receive a small commission at no cost to you.
Other DIY Disc Golf Basket Ideas
Use PVC pipes and nylon nets to make a disc golf basket
If you want to make something permanent, use a post hole digger, place your golf basket inside, and add cement to hold it firm.
Use a bucket instead of a basket
Add a lower basket for smaller kids
Use inner chains or a net to create something more like the original disc gold game
If you are making a metal set more like the original you'll need some additional tools like a drill, hacksaw, screw, nut, washer, corner brackets, drywall screws, l-brackets, t-nuts, dremel tool.
You can also make your frisbee golf set with a steel rod for the center post, plywood, etc for better stability, and there are several step-by-step tutorials out there that can help you with that.
Have fun with your disc golf game all summer long.