How To Get Rid of Vegetable Garden Pests with These 12 Easy Tips
Do you have vegetable garden pests?
It's springtime here and I'm busy getting my garden and apple tree ready. I get those pest problems: rabbits, squirrels, voles, aphids, and more in mine during gardening season – how about you? I thought I would share a few tips on things I use to keep those critters out of my vegetable crops without using harsh chemicals, poisons or traps. You have a few options when taking care of your garden: biological control or chemical control. We are already limited with our growing season in Colorado. I have to get the most out of my growing season with my garden plants. Pest control is hard and here are some ways I work to keep those vegetable garden pests out.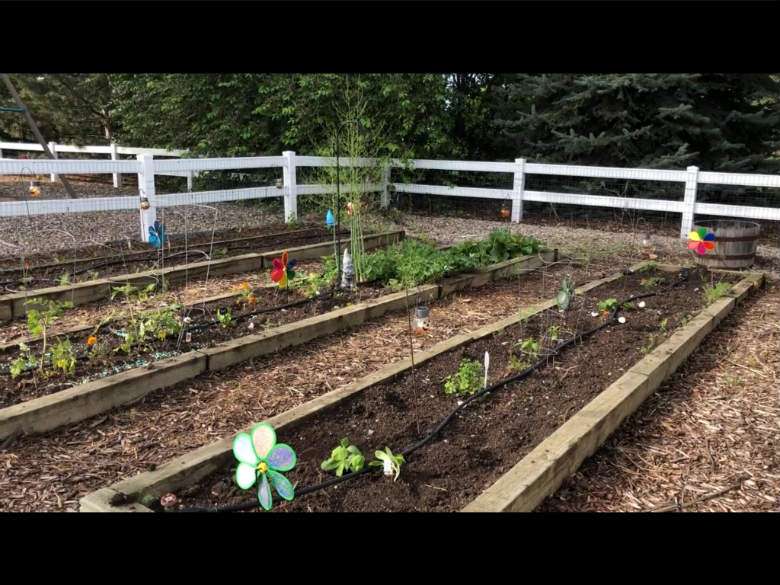 I've had my garden in this home for about 16 years now. We have learned if you have bunnies around, you'll definitely want a fence that will keep them out! We bought this fence at our local hardware store and used screws and fence clips to attach it to our fence. Don't forget to block off gate entry points as well. I put a row of rocks on the inside of my gate as a deterrent so the pests cannot sneak underneath it.
Marigolds are amazing flowers and give off a terrible smell deterring rabbits and deer. My grandma taught me the trick of planting these in my garden.
Animals don't like reflective things and get scared by movement. I put these simple pinwheels that I find at Dollar Tree to put in my garden to keep pests out.
Does a bar of Irish spring soap keep mice out of the garden?
Irish Spring Soap bars are an effective way to deter pests like rabbits, deer, mice, voles… as they don't like the fragrance. This is not universal to all soap products, but seems to only work with an irish spring bar. I grate up bars of irish spring soap with a cheese grater.
Sprinkle the irish spring soap shavings around your garden &/or flower beds if you have a mouse problem.
Put egg shells in your garden – why? It's said to deter deer, birds eat them thus keeping them out of our plants, and they add calcium to your garden as they decompose. I use them to deter slugs, this has gotten mixed reviews but it seems to work for me.
I get voles in my both my vegetable and flower gardens almost every year. To keep them out I have learned to add moth balls to a mesh bag (or make a cheesecloth drawstring pouch ) and hang them on a short Shepard hook and it seems to act as a repellent. They don't like the strong scent of the mothballs.
Sprinkle red pepper flakes in the dirt of your garden. It's known to deter rabbits, deer, skunks, raccoons, cats, dogs. It irritates their lungs and skin, and it will deter not harm animals.
Keep nocturnal animals away by adding solar lights to your garden.
Use a dish soap garden mixture to keep bugs like aphids (they leave a sticky residue behind and you can check the underside of leaves for eggs), and beetles off your plants. Works on both vegetable and flower plants. Make a pepper spray to make your plants taste bad to those pests trying to nibble on your leaves. You can find the ingredients and my full tutorial on how to make these amazing sprays here –Save Your Garden Sprays. I always keep a spray bottle handy!
Feed those pests somewhere else to keep them away from your garden. I made this bird feeder by E6000 a cup to a plate. I put water in the cup, and birdseed on the plate. This keeps the birds away from my garden. You can set scraps of lettuce and other items away from your garden for other animals too. They'll get used to eating there so they won't have to go scavenge in your garden.
The squirrels in my apple tree make me crazy! They eat the bark off in the winter when they need food (as do rabbits), and they eat one bite out of an apple and throw it on the ground. GRRR. So I wrap the base of the trunk in tinfoil. This deters them from climbing up the trunk and they don't like how it's reflective.
I also add these repurposed CD wind spinners along with bells, chimes, etc to my tree. If the squirrels jump on a branch the bells ring scaring them away, and the cd spinners reflect the light as well as create movement which they don't like as well. You can find my full tutorial here about these by clicking here.
Now one tip I have is that animals will get used to the items you put in your garden to keep them out. I recommend moving things around every once and a while to change things up and throw them off.
Find out "What Exactly Does It Mean To Repurpose Or Upcycle", save money, and create the most amazing things.
Learn more about "Creating Seasonal Decor for Your Home" to create seasonal decor that doesn't cost an arm and a leg.
How To Get Rid of vegetable Garden Pests Video
What is the most common garden pest?
colorado potato beetles
tomato hornworms
cucumber beetles
cabbage looper
spider mites
flea beetles
Mexican bean beetle
European corn borer
squash vine borer
squash bugs
cabbage worms
tobacco hornworm
corn earworms
bean leaf beetles
green caterpillar
vine borers
common asparagus beetle
stink bugs
white grubs
What are some examples of beneficial insects?
These are some examples of good bugs (natural enemies) that kill or eat the bad bugs.
parasitic wasps
lady beetles
Japanese beetles
How can you control pests without chemicals?
Here are some other ways you can get effective control using effective methods for your home vegetable garden especially if you're organic gardeners.
insecticidal soap
horticultural oil
natural predators
diatomaceous earth
Are you ready to work on your garden vegetables and vegetable plants? Don't forget your weed control in the garden to protect those plants too.
Shop any of these stores and I receive a small commission at no cost to you.
Learn more about "Why to Deep Clean and Organize Your Home" to save money, function better, and keep your sanity.
Check out some of my other garden posts!