How do I organize my walk in pantry?
We all need organization in our kitchen. I'm sharing 12 easy walk-in pantry organization tips and hacks, and these tips and hacks can be used in many areas of your home.
What is the best way to organize a food pantry?
The important thing about organizing any space in your home is to find a system that works for you. If you organize the space and things just don't seem to work, try again. Sometimes it takes a while to find the right way to keep things nice and tidy in a way that works for you.
The first thing I recommend when organizing is to start from scratch. Empty everything out so you have a clean slate to work with. Throw away things that are expired, wipe down the shelves, and envision how you'd like your pantry to look.
How do you organize dry ingredients?
Bags and boxes take up a ton of space in our pantry and it does not give it a cohesive look. I organize my dry ingredients by using containers that fit vertically in my pantry to give me more space, they look nice and don't cost a lot of money. I'm a fan of Pyrex Snapware. Another tip is that with deep shelves you can often layer your dry ingredients by putting taller ones in the back and shorter ones in the front. I cut off the instructions and tape them on the back of the containers, and I use a label maker to write what is in the container. This way I can remove the label if something changes in the container.
How do you organize aluminum foil and plastic wrap?
I use long rectangle storage containers and lay the foil and plastic wrap inside the container.
I have filled up 2 of these containers with storage baggies, plastic wrap, tin foil, wax paper, etc. and then I can stack them vertically in my pantry. This saves space, helps them look organized, and they stay in place.
How can I organize my cans?
I use wire shelves in my pantry. A lot of times we have tall space that is unused. Cans are a great example of this. I put a wire shelf in my pantry to give me more space. I organize my cans by likeness, meaning there is a row of vegetables, a row of fruit, etc. I also only keep cans of items I use on a regular basis.
What is the best way to organize tea?
I bought another one of the rectangular containers and then sets of smaller rectangular containers. I place the teas in the smaller rectangle containers then the smaller containers in the larger container.
I place my loose teas in another container, and then I use one of the wire shelves in the pantry to create a stacking system in my pantry.
How do you organize a travel mug?
I was so tired of all of our travel cups falling over like bowling balls when you would reach in to grab one. I bought book and magazine storage boxes that connect together, and each color represents a family member. We put their travel cups in those and it has really helped our pantry.
How do you store sugar and flour long term?
To keep my flour, sugar, brown sugar, and powder sugar long term I tore them in air-tight containers. I'm also able to utilize the depth of the shelf to put 2 in a row. This helps utilize the space in my pantry, and they look nice.
What is the best way to organize snacks?
I use 3 long and deep containers that will go on my shelves side by side. One container is the salty and sweet snacks, the next is popcorn bags, and one container is more protein-based snacks. This way I don't have lots of bags and boxes in my pantry, and it looks nicer. My kids have an easier time getting what they want on their way to activities and helping in packing lunches for school.
How do you organize cupcake liners?
I put them I a small container I found that they fit in perfectly, and place them with my baking supplies.
Can baking soda be kept?
Yes, and it does have an expiration date. I place my baking soda in a mason jar and bought a shaker lid to go on top. This way I can pull the lid off and measure out what I need for cooking, or I can shake out what I need for cleaning.
Where do you store brooms in small spaces?
I place a door hook rack on the back of my pantry door. This helps me store my aprons, brooms, dustpans, and more.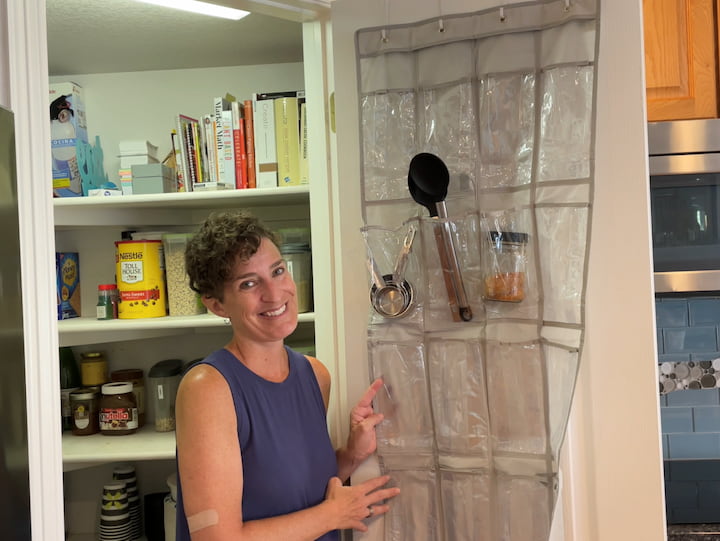 How do you use a shoe organizer?
Shoe organizers are great for so many uses in our home. I have a whole post on 20 Ways To Use A Hanging Shoe Organizer. You can place baking supplies, seasonings, utensils, snacks, and more in this verticle storage on the back of your door.
How do I organize my pantry on a budget?
Dollar store containers
Stacking wire shelves
Book & Magazine Holders
Label Maker
Shoe Organizer
Door Hook Rack
How do you organize a walk in pantry with deep shelves?
I buy items that you can stack double deep. So in the picture above you'll see my double deep dry ingredients. Above you could see my baking ingredients, cans, etc placed double deep as well.
I hope this inspires you to do some walk in pantry organization today!
Learn more about "Why to Deep Clean and Organize Your Home" to save money, function better, and keep your sanity. 
11 Amazing Walk In Pantry Organization Tips and Hacks Video
Shop any of these stores and I receive a small commission at no cost to you.