Fantastic Milk Crate Ideas with Endless Possibilities, You Won't Believe It
Do you want milk crate ideas? I have a few to share with you and you won't believe the possibilities that are so incredibly useful.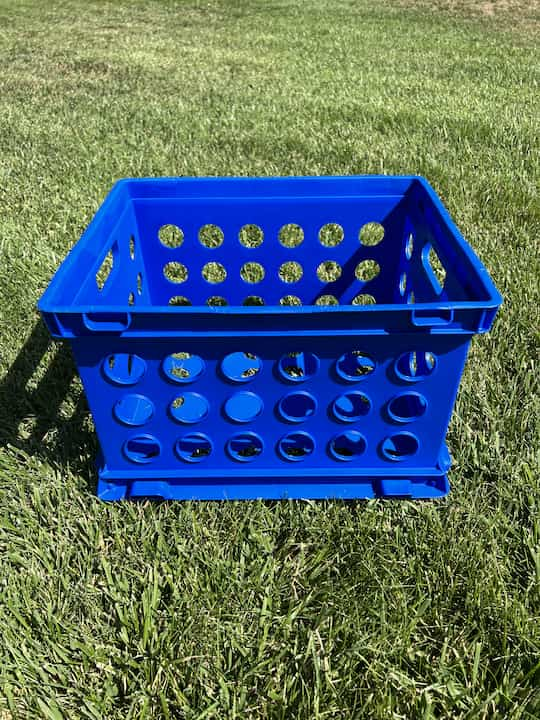 Milk Crate Ideas Materials
Milk Crate Ideas Video
A great idea is to use old wooden crates, and old milk crates, or you can work with upcycled milk crates for some of these clever ideas.
Milk Crate Ideas
Build a storage shelf
You can build amazing storage for just about any space in your home. Start by stacking the crates in any way shape or direction you want.
You can build the crates in any direction you wish if you buy stacking milk crates that lock into place. If you want to hide what's on a shelf, you can place baskets inside the crates. This works great for closets, bathrooms, toy/kid's rooms, and more.
You can pick a color of crates that you like whether you like bright and vibrant or more subtle. You can also paint the crates any color you like with a little spray paint to make them colorful crates. Here you'll see I build a little storage shelf that can hold books or other display items. I placed a couple of inexpensive serving trays on top, or you can measure the top and have a local hardware store cut a piece of plywood to size to place on top of the milk crate.
This is a great storage case when you're on a budget.
Use mini crates to create storage in tighter spaces. Here I'm stacking 3 mini crates together.
For this example, I'm creating extra storage organization for the bottom of a school locker. This space is often underutilized and by adding some crates I can gain some fantastic extra storage. I've added charging cords to the bottom, post-it notes pens and pencils to the middle, and a pencil pouch, scissors, glasses, and snacks.
Use this storage in any of the following areas of your home
Family Room
Bedroom
Closet
Bathroom
Kitchen
Office
Dorm Room
Apartment
Create easy wall storage
Create storage in places using the smaller mini crates. I hung this one on a wall in a bathroom that doesn't have much storage. You can easily use a command hook too.
I added wash clothes and hand towels to the crate for easy storage. You can use any shape or size and place as many as you need on the wall that you have space for.
Use crates for easy cleaning
I like to place items in small crates for easy cleaning. Here you'll see I placed the back up toilet paper and room spray in a little crate. This way I can pick the whole thing up easily and clean under it. I like to do this in my showers as well with all of the shampoo, conditioner, soap, etc in one basket. Pick it up, wipe under it, and keep going. Easy cleaning.
Create a milk crate seat and table
Whether you don't have a budget for seating outdoors, you need more, or you don't have the space, this idea is for you to create some upcycled furniture.
I placed a single crate upside down.
Place an inexpensive seat cushion on the bottom of the crate for some extra seating. You can make as many of these as you like and then the best part is that you can stack them away when you're done with the cushions inside.
For a side table place another crate upside down, or you can stack two together to make a small table.
I had a large cutting board that I placed on top of the crate/s. You could easily have a piece of wood cut at your local hardware store to place on top.
This is a super easy set of tables and chairs I created. I can add as many of these as I need for an event. I can easily stack them up and put them away when I'm done. You can also stack several crates upside down side by side in a row, place the cushions on top, and create a bench for seating on a porch, patio, or small apartment or condo deck.
Use them for hauling
I fit two of these crates nicely in the back of our Jeep. I use them for carrying groceries or other shopping items. I have used them to stop things from flying around in the back of my car. I have also used them to carry things we need for the day, whether it's sporting or dance gear, or items we need for an outing for the day like bug spray, water bottles, food, etc.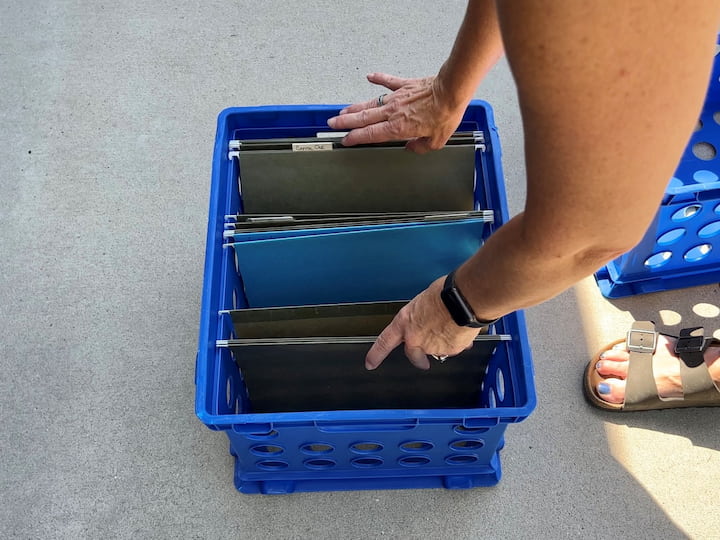 Easy File Storage
If you didn't know already, crates were made for carrying file folders or storing them. Plus they stack nicely.
Wooden Milk Crate Ideas
How do you make a bookshelf out of wooden crates? With a limited amount of storage space and some wooden crates from Walmart, I found just what I needed to create an easy DIY wood crate bookshelf. What I love about this is that I was able to create a corner bookshelf and use space that was not being used efficiently. You can find the full tutorial at Easy DIY Wood Crate Bookshelf
We have limited storage in our place and I needed to find a way to store our blankets. I found just how to do it using wooden crates and some caster wheels! You can find the full tutorial at Easy Rolling Crate Storage
I was messing around with the wooden crates at Walmart and inspiration stuck! I wanted to make a vintage DIY red truck that I could use around my home. Check out my red truck made from crates and the best part – you can use this all year for all seasons! You can find the full tutorial at How To Make A Super Cute DIY Crate Red Pickup Truck
This is an easy way to create cool things and awesome home decor. It's a great way to build things to the perfect height for what you need in your home.
If you are looking for another awesome project, you can consider these too:
Milk Crate Ideas Video
Shop any of these stores and I receive a small commission at no cost to you.