I love my hot glue gun and it's great for so much more than crafting. Here are a few ways I've use hot glue gun hacks to help in my home.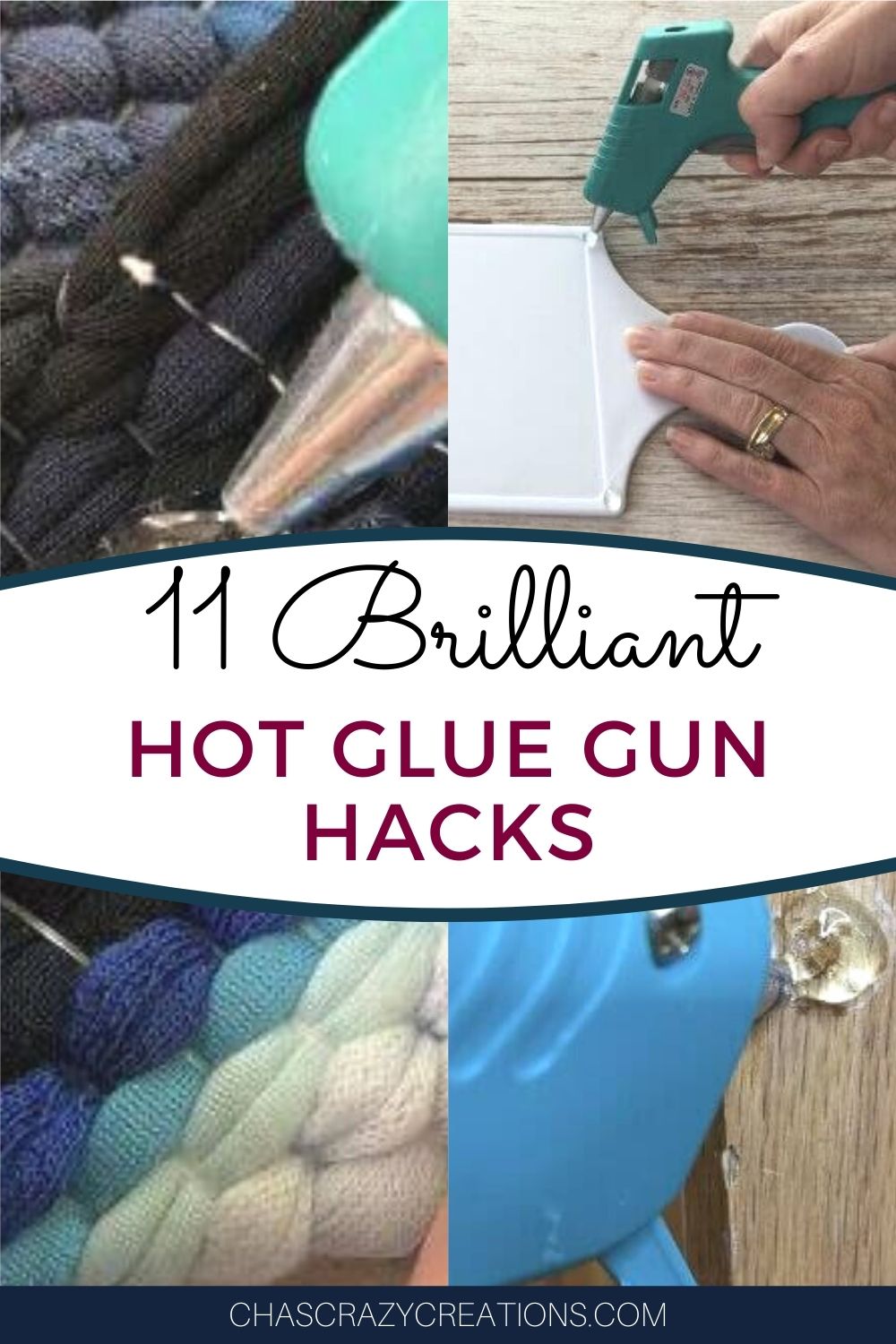 Hot Glue Gun Hacks
Non-Slip Rug –
Put hot glue onto the back of a rug, & let dry.
Place glue side down on the floor and the hot glue prevents the rug from sliding around.
No Slip Hanger –
Place hot glue zigzag lines or dots on a hanger. Let dry and your clothes will stay on the hanger.
No Slip Cutting Board –
Squeeze hot glue onto the 4 corners of your cutting board and let dry. Place the glue side down and your cutting board will not slide while cutting on it.
Paint & Make Up Brush Cleaner –
Place hot glue lines & shapes on a cutting board and let dry. Put a little soap onto your paint and make up brushes and rub along the glue lines to clean them.
Quiet Cabinet Doors & Prevent From Slamming –
Place a little hot glue onto the corner of your cabinet and let dry. The glue will stop the door from slamming shut.
Make a Faux Milk Glass Vase –
On a recycled bottle, make small glue dots with your hot glue and let dry. Paint over the entire bottle with white paint and let that dry completely.
Pet Hair Remover –
Place hot glue lines all over a pair of rubber gloves and let dry. Run the gloves under water, and then run along the furniture, clothes, blankets, etc and the hair will stick to the gloves. Rinse and repeat.
Non-Slip Flip Flops –
Make hot glue designs with colorful hot glue on the bottoms of flip flops and let dry. Your flip flops will not slip and slide around on slick surfaces. These are great for writing messages and you can leave foot prints in the sand.
Renter Friendly Picture Hanging –
Place painters tape where you want your picture to go.
Place hot glue onto your corners of your picture frame.
Push the picture onto the painters tape.
Beautiful Candle Holder –
Make hot glue designs on a candle holder with colorful glue gun sticks, let dry, and add a candle of your choice.
Hang Lights –
Use hot glue to hang lights on brick and other tough places.
You might also be interested in these hacks:
Hot glue gun hacks video
Shop any of these stores and I receive a small commission at no cost to you.