Are you wondering how to make DIY outdoor Halloween decor on a budget? Here are some easy Halloween decorations. These are diy outdoor halloween decorations using cheap materials you probably have around your own home. They take very little time and are a creative way too spruce up your outdoor space for a halloween party, haunted house or just for trick-or-treaters.  I have some ideas for easy, creepy Halloween decorations that you can use for your front door, front porch, or front yard!
DIY Outdoor Halloween Decor
How Do You Make A Mummy Door?
This first DIY project is a mummy door and it's a simple way to dress up your front door to greet party guests for Halloween. I taped strips of toilet paper (or you could use crepe paper or fabric) to the door.
I added a couple of eyes I found from Dollar Tree.
My kids were so excited to see this door (and so were the neighbor kids – they were spying on me all day)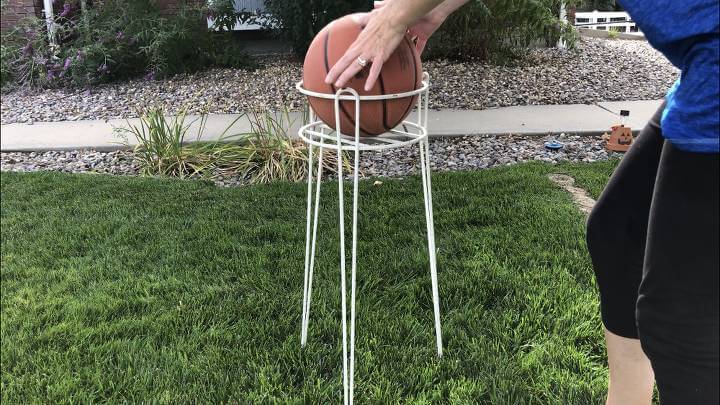 How do you make a homemade ghost?
The next outdoor Halloween decoration idea is a spooky ghost. I placed a basket ball on top of a plant stand I had. You could also use a tomato cage.
I set a full sized white sheet over the stand.
I added 2 felt eyes and my ghost was ready.
Glowing Ghost –
Another great way to add to your outdoor decorations is to make lights to use as Halloween porch decorations. I bought 2 glass lamp shades at a thrift store. You can also find these at home depot or your local craft store
I use a permanent marker to make some eyes.
I put a solar light through the hole on the top so he'd glow.
How Do You Make A Halloween Tree?
Easy DIY Halloween decorations can use natural materials found right in your yard.; I took a couple branches we had from fall clean up. I used black spray paint and painted them black then let them dry.
I used black spray paint and painted them black then let them dry.
I put them in a flower pot and filled it with dirt to keep them in place.
I set the flower pot in a plastic cauldron I had on hand.
I added some purple lights for added glow. You could also cut out creepy spiders, witches' brooms, black birds, skeleton hands or scary ghosts to hang on the tree.
How Do You Make A Giant Spiderweb?
No spooky Halloween decorations are complete without spider webs. I cut some sprinkler pipe so that I could make a circle with it.
I taped it together with some gaffers tape.
I used some twine I had on hand and created the web by weaving it around the tubing.
I spray-painted the twine black and let it dry.
I set my web in front of a window so it would be lit up on Halloween night.
Learn more about "Creating Seasonal Decor for Your Home" to create seasonal decor that doesn't cost an arm and a leg.
DIY Outdoor Halloween Decor Video
Shop any of these stores and I receive a small commission at no cost to you.
[mv_create key="161″ type="list" title="Halloween Projects" thumbnail="https://chascrazycreations.com/wp-content/uploads/2019/09/4-Easy-Halloween-DIYs-5-display.jpg" layout="grid"]
[mv_video doNotAutoplayNorOptimizePlacement="false" doNotOptimizePlacement="false" jsonLd="true" key="cs34vdcgcuafekvylxbp" ratio="16:9″ sticky="false" thumbnail="https://mediavine-res.cloudinary.com/video/upload/cs34vdcgcuafekvylxbp.jpg" title="DIY with Chas – Easy Halloween Yard Decor" volume="70″]