Easy and Awesome DIY Halloween Decorations Indoor on a Budget
Are you looking for DIY Halloween Decorations Indoor? Halloween is my favorite holiday! You better bet my home will be decorated by October 1st. I wanted to share some spooky DIY Halloween decorations I have been working on with all of you! These are sure to get you in the holiday spirit and are perfect for this spooky season. These were so much fun to make and are the perfect Halloween crafts to add to a haunted house or Halloween party to greet your party guests. You can also use these decoration ideas in your living room, dining room table, or front porch. These easy decorations for the Halloween season are a fun way to involve the entire family and see what creative ideas they might add. Many of these decor ideas can be made with simple household items and take very little time. They will really give your home that spooky touch.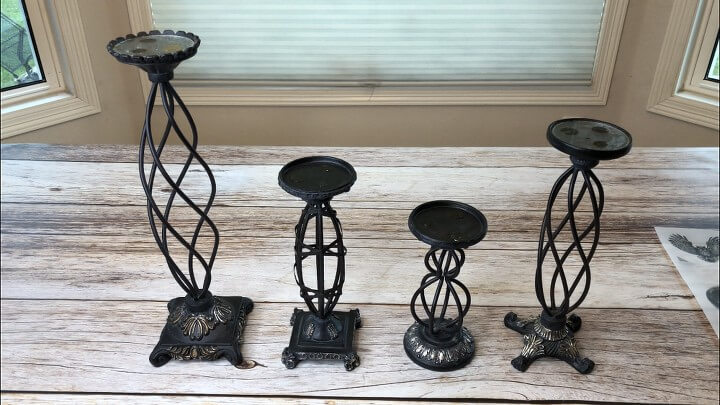 DIY Halloween Decorations Indoor on a Budget
A great way to get started is to make some super easy DIY Halloween decorations.
Glowing Crystal Balls –
Here is an easy way to dress up your Halloween table with scary decor. I started with 4 candle holders of different sizes I found at the thrift store.
I printed out 4 images on Velum paper, let the ink dry, and cut them out.
I hot glued the image to a battery operated tea light.
I placed the tealight and image on top of the candle holder and the placed a round floral bowl or vase over it.
Turn the lights on and they're ready to glow!
Ghostly Mirror –
This is one of my favorite scary Halloween decorations. I pulled the back off a picture frame I had on hand.
I purchased a ghost window cling from Walmart. I placed it image right side facing the glass of the picture frame. I then sprayed it with Rustoleum Mirror Effect spray paint and let it dry.
I put the picture frame back together and my ghost was ready to be hung up.
Ghost Chair –
You can easily transform your chairs into friendly ghosts. I put a full size white sheet over the top of my rocking chair.
I added 2 google eyes I found at Dollar Tree and my ghost chair was done.
No Sew Handkerchief Pillow –
This is one of the easiest indoor Halloween decorations. I placed 2 handkerchiefs on top of each other with the right sides facing out.
I hot glued 3 of the 4 sides together.
I added some stuffing, and then hot glued the last side together. My pillow was done and ready to enjoy.
You might also be interested in seeing some of my outdoor Halloween decorations that include anything for your front door to making spider webs. You can hang giant spiders and witch hats with some witch legs outside too.
These cheap Halloween decorations are so easy to make.
Happy Halloween!!
Learn more about "Creating Seasonal Decor for Your Home" to create seasonal decor that doesn't cost an arm and a leg.
DIY Halloween Decorations Indoor
Check out some of my other Halloween decor!