Repurposed Upcycled Plant Stand: Easy DIY
Discover the perfect blend of style and sustainability with our upcycled plant stand. See how I repurposed and upcycled plant stands and patio furniture. The first plant stand was turned into a side table. You can use these steps to update your own plant stand or patio furniture. From there I I started collecting more and made several repurposed and upcycled plant stands.
Now you can use any plant stand you want for this DIY project and it can be from a thrift store or flea market. Not only will I show you one way to repurpose your plant stand, but several as you read through this post.
Maybe your favorite plants have passed and you want to do something different with your stands and this is a great way to use the following stands.
Just because you don't have a beautiful plant anymore doesn't mean you have to get rid of that stand. If you don't have a stand you can create one out of scrap wood and customize it to different heights. You just need a few wooden boards.
Repurposed Upcycled Plant Stand and Patio Furniture
First I washed the plant stand to clean off any dirt that was on it. Then I scrubbed it with a Steel Wool Pad (mine came from the Dollar Tree) to remove any loose paint and rust.
After all the water had dried, I used Rustoleum Metallic Brilliant Metal Finish to paint the stand. I let the paint dry 24 hours.
You can also use any of the following paint for this simple diy:
and don't be afraid to add a pop of color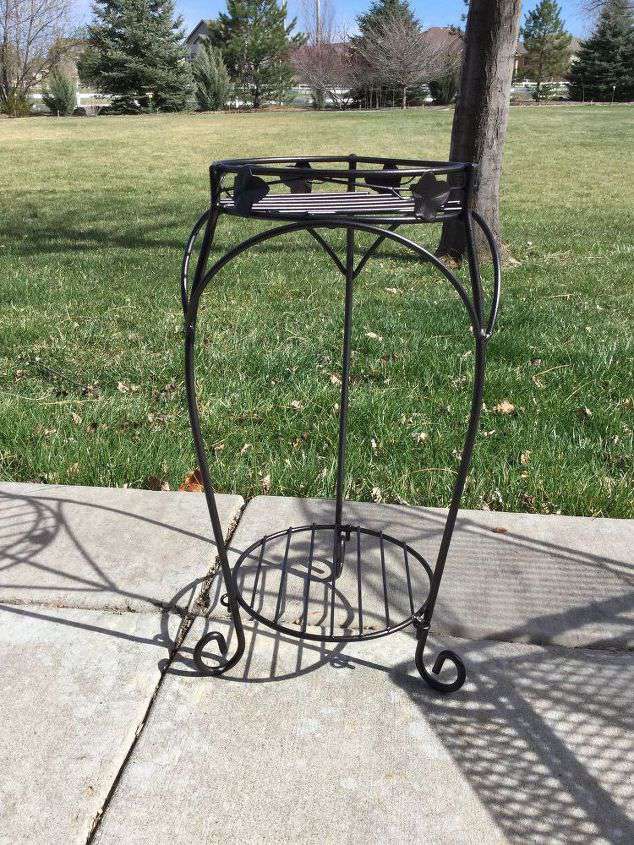 I found a glass cutting board at the Dollar Tree and knew it would fit perfect in the plant stand.
I bought one for the top and one for the bottom shelves.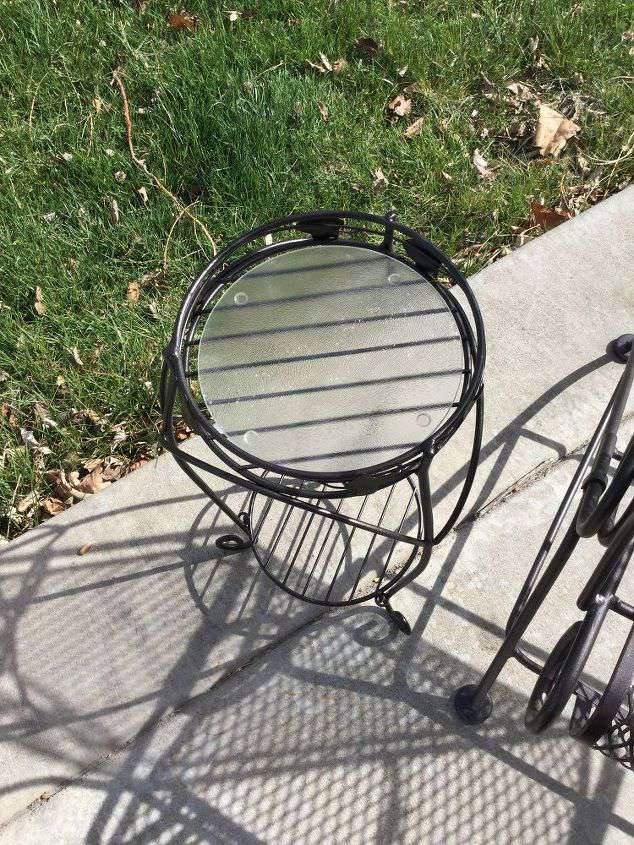 BUT WAIT!!! THAT'S NOT ALL!!! More ways to Repurposed Upcycled Plant Stand!
What else can I do with a repurposed and upcycled plant stand?
Fix your old plant stands and furniture.
A couple of years back, I refurbished all my yard furniture. Some of it was green, some of it was black, the paint was chipping and places were starting to rust. I did all of these steps and am very pleased with the way it turned out. This picture is recent and all the furniture made it through the winter just fine.
I noticed that this poor rocker on the bottom left corner didn't have a table space to put a beverage or snack. That is when I remembered I had the plant stand.
Here is more of the furniture I fixed up last fall. The table was green, & the chairs were black. Now they all match.
I did this plant stand a couple of years ago and it's holding up fantastic!
Repurposed and Upcycled Plant Stand Patio Furniture Q & A
Now you might be looking for another great idea on what to use for plants or diy plant stands ideas and here is a perfect way to display those awesome plants.
upcycled drawer plant stand and use an old drawer
bar stool
old furniture
wooden pallets
old crate
little table
large planter boxes
diy ladder plant stand and use an old ladder
rope spool plant stand
tiered corner plant stand
Add hairpin legs to a wood stump
Depending on what you create using having a plant stand is a great choice to:
add potted plants
use them for indoor plants and plant collections
have a unique look
work with limited space
get large plants off the floor
make them for outdoor use and find the perfect place for them
Shop any of these stores and I receive a small commission at no cost to you.