Make creative candle holder solar light decor using thrift store finds. You can usually find them for a really good price.
I went to an all town garage sale and found a bunch of fun candle holders to upcycle into solar light creations!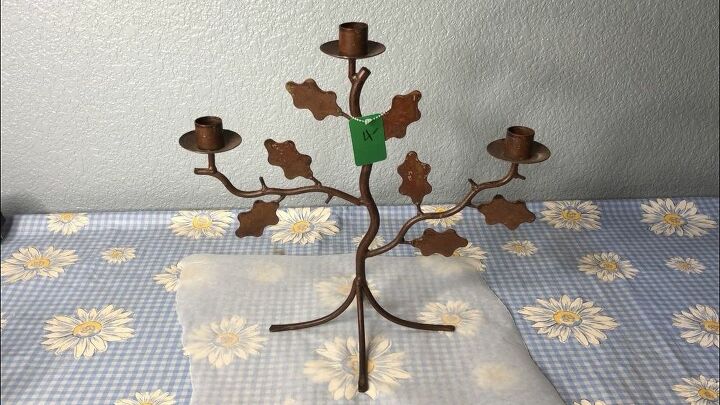 Here is the first candelabra that I was excited to work with and just in time for fall. This candle holder was $4!
I used Folk Art Treasure Gold to paint the stem, and I used Copper to paint the leaves. I let that dry after painting.
I put Super Glue into the base of the candle holders, pulled solar lights off their bases, and placed them into the candle holder.
I let it dry completely and love how it turned out.
Here's a picture of it lit up at night.
Here is the next set of candle holders I picked up. I already had 3 glass lamp shades on hand that I was trying to figure out what to do with.
I Superglued the glass lamp shades to the top of the candle holders and let that dry.
I pulled solar lights off their base (I got these from Walmart) and placed them into the glass shades.
I love how they remind me of flowers and they are currently lighting my front porch.
Here's a look at them lit up in the evening.
Here's my last candle holder. It's really big, beautiful, and heavy.
I pulled apart 3 Walmart solar lights from their bases and placed them into the candle holder for a perfect fit.
Here's the completed solar light and it's on my back patio to create ambiance.
Find out "What Exactly Does It Mean To Repurpose Or Upcycle", save money, and create the most amazing things.
Candle Holder Solar Light Decor Video
Shop any of these stores and I receive a small commission at no cost to you.
PLEASE PIN FOR LATER: