Easy and Awesome DIY Wood Crate Bookshelf with Video
How do you make a bookshelf out of wooden crates? With a limited amount of storage space and some wood crates from Walmart, I found just what I needed to create an easy DIY wood crate bookshelf. I am always looking for ways to add extra storage, especially in a small space. I thought making a unique rustic shelf would be a fun diy project.
We have a small place in the mountains. When we're there we focus on slowing down and spending as much time together as possible. We get out games and puzzles to do together, especially when it's cold and snowy outside.
Easy DIY Wood Crate Bookshelf Video With Step-by-Step instructions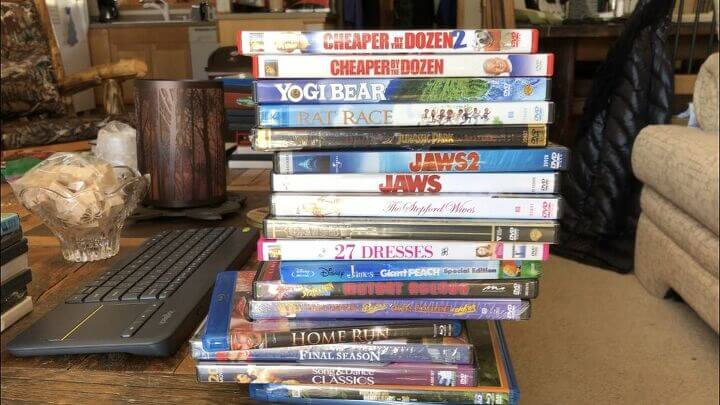 At the end of the day we watch a movie together. Our space is limited, as it's a small place so we needed a way to store our games, puzzles, and movies so they wouldn't be in the way.
I found this little empty wall space next to our couch and end table that would be perfect, but the trick was to figure out how to make custom shelving the right size to fit the space I had.
I measured the length and wrote it down.
I next measured the depth before it crossed paths with our window and blinds. I wasn't as worried about height as I had a long way up to utilize. When you are making your own wooden crate bookshelf you can use the number of crates that fits your space.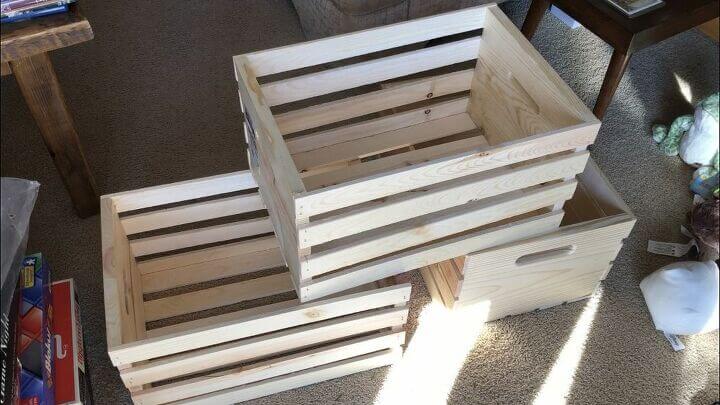 I found these crates at Walmart and they were exactly the dimensions I needed! They were also super affordable … added bonus! I'm sure they have something similar at the home depot or any large hardware store. By leaving them as unfinished crates It would keep the natural rustic look, as we have a lot of natural wood as part of the walls and room decor.
I bought 3 of them and stacked them – perfect fit! I wasn't worried about them tipping so I literally stacked the pallet crates together. If you wanted you could use wood glue, other adhesive, and/or small screws to give them extra durability. I left mine with a distressed finish, but you could easily give the individual crates a pop of color with spray paint or choose a stain color to go with the style of your room.
I then filled them with our games, puzzles, and movies and it worked great. They're organized and out of the way, but easily accessible.
You can find crates of different sizes and assemble them in different configurations to fit your desired size. These crate shelves would also be great to add extra storage space in a craft room to store craft supplies or as a storage solution for kids' books. This is a great project to add your creative touch. These crate bookshelves are like a blank canvas, so have fun!
Easy DIY Wood Crate Bookshelf Video
More wood crate information:
These would be amazing in a kids' room, I would just use wood screws to hook them together or a nail gun to give them solid sides, and use an electric sander on them to void slivers and rough edges.
You can make outdoor coffee tables with these crates
You can always paint them a different color and use chalk paint, acrylic paint, or spray paint
You can add wheels to the bottom crates
You can use large crates for larger storage
Making pilot holes will prevent splitting in the pine boards
These are a great many areas of your home including a family room, office space for a shelving unit, or a nursery bookshelf
Add your favorite books, DVDs, games, and more to them.
Rub your stain or paint in the direction of the grain and paint with a paintbrush or use a lint-free cloth for the stain.
Learn more about "Why to Deep Clean and Organize Your Home" to save money, function better, and keep your sanity.
Shop any of these stores and I receive a small commission at no cost to you.
Learn more about "Why to Deep Clean and Organize Your Home" to save money, function better, and keep your sanity.
Check out some of my similar crate posts!