10 Awesome and Easy Ways To Recycle Pots and Pans
Do you want to recycle pots and pans? I was given the challenge to find different ways to repurpose these and here are some of my favorites!
How do you get rid of old pans?
Recycle Pots and Pans Ideas
1. Create your own lazy susan
Place 1 pie pan on your table and fill it with marbles.
Place a second pie pan on top and you have a lazy susan. You can use this on your table, in your refrigerator, or to hold cans filled with craft/office supplies
2. Create a shoe tray
Fill a cookie sheet with dollar store rocks and place it by your door.
Set your shoes on it, it'll protect your floor from getting wet, as well as protect it from dirt, mud, etc.
3. Make a 3 tiered stand
Use a pizza pan as the base. Next, I E6000 glued a glass to the center of the pizza pan.
I placed E6000 on top of the first glass and set a pie pan on top of it. I took a second glass and added E6000 to the top and bottom of that and placed it in the center of the pie pan.
Last I placed a cake pan on the very top and let dry 24 hours. You can use this for serving at an event, or use it in your home to store jewelry, supplies, etc
Here you can find several other tiered tray tutorials, uses, and more.
4. recycled pots and pans into a planter
I used a bread pan and filled it with dollar store rocks. I placed a fake succulent plant in the center and added 2 battery-operated led lights on the side and covered those with rocks.
I added 2 plants on either side of the succulent that was from a floral arrangement. My battery-operated lights were waterproof so I added water to the pan for the live plants.
5 make a wreath
I hot glued together a bunch of tartlet cups. You could use a stronger glue like E6000 if desired.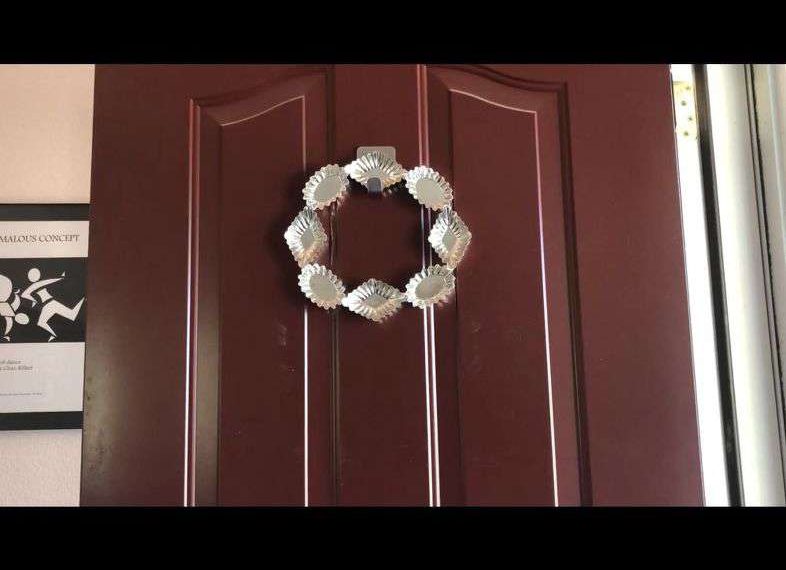 Once it is set, hang it somewhere to enjoy
For this, I painted a cookie sheet with chalkboard paint.
You can find the full tutorial at 2 Easy and Inexpensive Lap Trays
Not only is this good as a lap tray, but you can also use it as a message board.
You might also be interested in a serving tray upcycle tutorial – Chalkboard Message Board
And you can upcycle a serving tray into a cute Metal Multi-Use Tray Upcycle using stencils.
A learning and game tray for kids. Use it with magnetic letters, play tic tac toe, & great for car rides as a lap tray as well!
Add some hanging magnets, BBQ utensils, and you have a Father's Day gift for dad or a gift for the BBQ lover. You can find the full tutorial at BBQ Menu Tray, Magnet, Utensil Holder, & More
8. A message board
Add some contact paper to a cookie sheet.
Next add a magnetic pen holder, as well as some magnetic clips to hold notepads and post-it notes.
You could also use this as a serving tray
9. Create fun Garden Decor
I spray-painted some of my tart cups white. I E6000 glued 2 Dollar Store glass rocks into the center and let them dry.
Once that dried, I used silicone on the back to secure a kebab skewer.
I let that dry completely and added them to my garden display in my front yard.
10. recycle pots and pans to Create artwork
I spray painted 6 cake pans white, and then I spray painted 1 pie pan gold. I let that dry completely.
I placed the pie pans in a circle and added silicone to the back of the pie pan.
I placed the pie pan in the center and let it dry completely.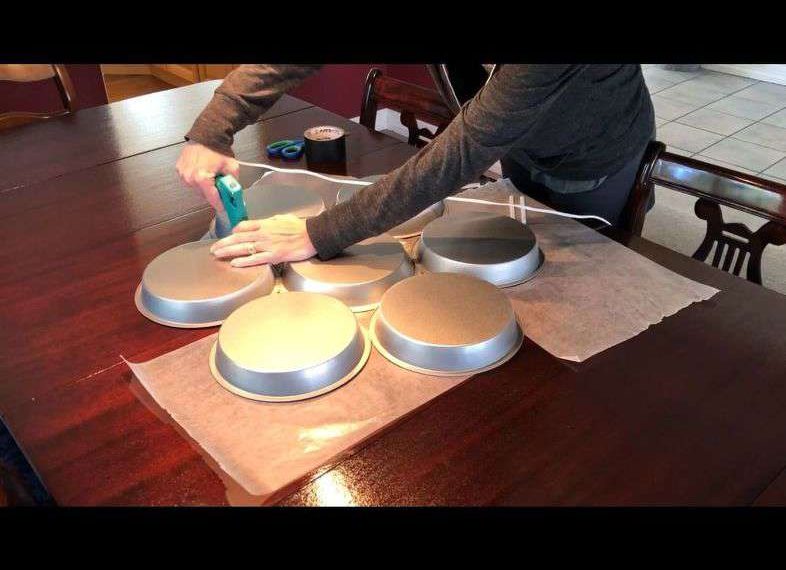 I carefully flipped the piece over as it was not very stable. I added some hot glue to the cake pan edges and let that cool
I also added some gaffers tape to secure the piece.
I hung the piece outside on our shed.
10 Awesome and Easy Ways To Recycle Pots and Pans video
Shop any of these stores and I receive a small commission at no cost to you.
Can I put old pots and pans in the recycle bin?
It is recommended that you donate your pots and pans to places like GoodWill or Freecycle. You can also turn them into other items like garden decor, serving trays, and more. Contact your local trash company to see if they accept the pans in the recycle bin or if they need to go into the trash.