How To Make A Flower Pot Lighthouse
Do you want to know how to make a plant pot lighthouse? I just love the beach and I've been looking for creative ways to incorporate beachy, coastal decor into my home. This decorative lighthouse is the perfect project to accent my shell collection! With just a few easy-to-find materials you can have your own nifty flower pot lighthouse in under an hour or two. This DIY lighthouse is an easy craft project, you don't need any crafting experience in order to do it yourself. Check out my step-by-step guide and get started!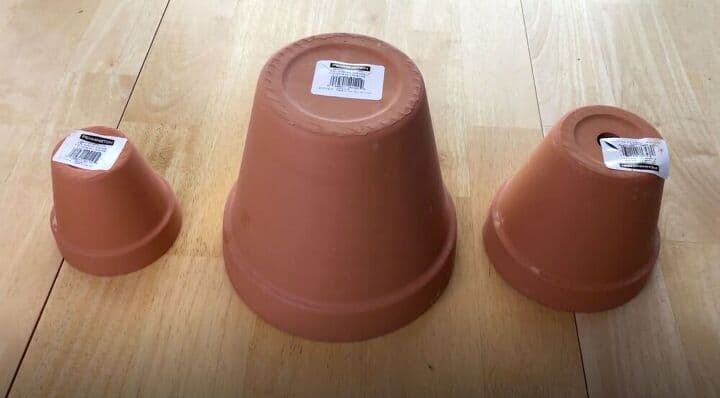 Flower Pot Lighthouse Materials:
3 flower pots (We'll be stacking the pots so make sure that they are different sizes and stack nicely. I got a 4", 6", and 8" flower pot for my lighthouse). I used terra cotta pots of various sizes
Paint, the colors of your choosing
Paintbrushes
Waterproof silicone
Permanent marker
Sealant
LED light
Lantern (or solar light if you choose)
How do you make a lighthouse?
Flower Pot Lighthouse Instructions
1. Prep the Flower Pots
Make sure to remove the labels from the flower pots. Wipe them down with a wet towel to remove any dirt or debris on them. This is important because if they are dirty the paint won't stick properly. Let them dry completely before you start painting.
2. Paint
The type of paint you choose depends on where your flower pot lighthouse is going to live. If it's going to be inside, then you can simply use acrylic paint. However, if your flower pot lighthouse is going to live outside then you need to use outdoor paint that can withstand the elements. I'm using Apple Barrel Paint – Cobalt Blue.
I painted the outside of the flower pots blue, leaving the rim of the pot natural.
I also painted the bottom of the smallest clay pot because it will be visible on the top of the lighthouse.
Then I painted the rims of the flower pots silver to provide some visual interest. I used Delta Ceramcoat Metallic Silver.
3. Connect the Flower Pots
I flipped the largest flower pot over and added a ring of clear silicone along the edge of the bottom. Then I placed the smaller pots on top of it.
Next, I repeated the process with the smallest flower pot and gave it time to dry before moving on to embellish the pot.
If you want, you can add even more flower pots to make a larger lighthouse, or use two smaller flower pots to make a smaller lighthouse for somewhere else in your home.
4. Embellish
This step is totally up to you, but I chose to add a few different-sized windows to my flower pot lighthouse. I used a small paintbrush and Folk Art Home Decor Summer Porch Chalk Paint to mimic the look of light shining through a window.
Then I used a Folk Art gold/black Color shift to create a door at the bottom of my lighthouse.
Once everything had dried I used a permanent marker to add some more details to my windows and door, and some other accents on the rest of the lighthouse. You could draw sand, rocks, waves or even decorative rope or sea glass if you wanted to as well.
There are lots of possibilities for how you can add light to the top of your flower pot lighthouse. If it's going outside a solar light is a perfect fit for this project.
I decided to go a bit of a different route and attached a small lantern that my son had given me to the top, with a battery-operated waterproof LED light inside.
5. Seal
If you want to protect and seal your lighthouse, go ahead and give it a clear coat of outdoor mod podge to stand up to the elements.
Can't you smell the beach already? This flower pot lighthouse is a quick and easy way to bring the beach straight into your house. How would you decorate yours? Let me know in the comments below!
What size pots do I need to make a lighthouse?
You'll need 3 flower pots. They can be any size you want, but they need to be at least an inch to 2 inches apart so they'll stack.
What can you make with clay pots?
How To Make A Flower Pot Lighthouse Video
Click here for Plaid Enterprises, Inc. Disclosure @PlaidCrafts #PlaidCrafts #PlaidCreators
Shop any of these stores and I receive a small commission at no cost to you.
Learn more about "Creating Seasonal Decor for Your Home" to create seasonal decor that doesn't cost an arm and a leg.