3 Awesome and Easy Holiday Pool Noodle Hacks
What can I do with pool noodles? I have 3-holiday pool noodle hacks for you! Foam noodles were on clearance for .25 at Walmart. I grabbed a bunch of them and created some holiday decor for my yard/home. Such an easy way and fun way to create displays this holiday season on a budget.
How do you make a candy cane out of pool noodles?
I wrapped white athletic tape that I got from the dollar store around 2 red large pool noodles. You could alternatively use white duct tape.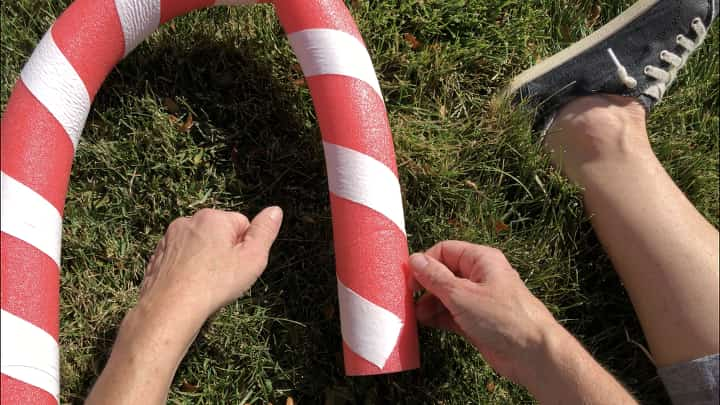 I curved the pool noodle into a candy cane shape and used a fishing line to hold it in place.
I put some yard stakes into the ground and placed the candy canes onto them.
What do you think of my pool noodle candy canes? Easy enough right?
If you like this you might like some of my other holiday favorites
How do you make a hiding elf from a pool noodle?
I cut a red pool noodle in half with a saw but you can use a serrated knife.
I stuffed some plastic bags into knee high socks where the feet go. You could use any kind of stuffing for this part. I then pulled the socks up the sliced pool noodle.
I placed an elf hat on top of the noodles.
If you like this you might some of my other home hacks.
How do you make letters out of pool noodles?
I took one green pool noodle and bent the middle of the pool noodles (like the candy canes) and tied it into place with fishing line. This would be my "J".
I taped 2 noodles together using gaffer tape to create the "o". You could use this idea alone to create a simple and inexpensive wreath.
I cut a piece of pool noodle and used a hot glue gun and glued it back on to create the letter "y.
Here is what the forms looked like before I continued
I then bought a garland from Walmart. I hot glued the garland to the end of a pool noodle and then wound the garland around each letter. I cut off the end and hot glued it to the noodle.
I added a solar light strand that I already had on hand to my display.
I used the extra lights to hold the letters into place on my railing.
If you like this display you might like my selection of wreaths
Alternatively, you could use all of these decorations indoors.
You can see more DIY projects I have made from pool noodles as well.
3 Holiday Pool Noodle Hacks
Shop any of these stores and I receive a small commission at no cost to you.
pool noodle life hacks and clever uses of pool noodles:
Pool noodles fit around PVC pipe and make pool noodle sprinklers
Make a card holder
Use on bunk beds and bed rails
Place on the edge of the door to prevent doors from slamming
Make a beverage boat
Place fishing poles or fishing rods in them to keep them safe
Place around metal poles
Place on the edges of tables like a dining table or coffee table, or corners of tables
Use for a massage and stress reliever
Click on the images to shop any of these holidays favorites!

Check out some of my other Christmas decor!