Pool noodles were on clearance for .25 at Walmart. I grabbed a bunch of them and created some holiday decor for my yard/home.
Candy Canes –
I wrapped white athletic tape that I got from Dollar Tree around 2 red pool noodles.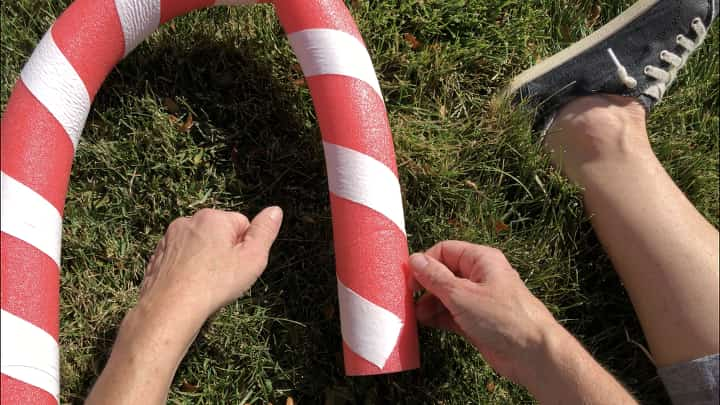 I curved the pool noodle into a candy cane shape and used fishing line to hold it in place.
I put some yard stakes into the ground and placed the candy canes onto them.
Hiding Elf –
I cut a red pool noodle in half.
I stuffed some plastic bags into knee high socks where the feet go. You could use any kind of stuffing for this part. I then pulled the socks up the pool noodles.
I placed an elf hat on top of the noodles.
"Joy" Display –
I took one green pool noodle and bent it (like the candy canes) and tied it into place with fishing line. This would be my "J".
I taped 2 noodles together using gaffers tape to create the "o". You could use this idea alone to create a simple and inexpensive wreath.
I cut a 3rd pool noodle and hot glued it back on to create the letter "y".
Here is what the forms looked like before I continued
I then bought garland from Walmart. I hot glued an end onto the noodle and then wound the garland around each letter. I cut off the end and hot glued it to the noodle.
I added a solar light strand that I already had on hand to my display.
I used the extra lights to hold the letters into place on my railing.
Alternatively you could use all of these decorations indoors.
Video with Hometalk Coming Soon!