4 Easy and Terrific Grateful Crafts on a Budget
Do you want grateful crafts for the holidays? I have 4 terrific and easy ideas on a budget and you can use them for holidays or year round.
Let's get started on our grateful crafts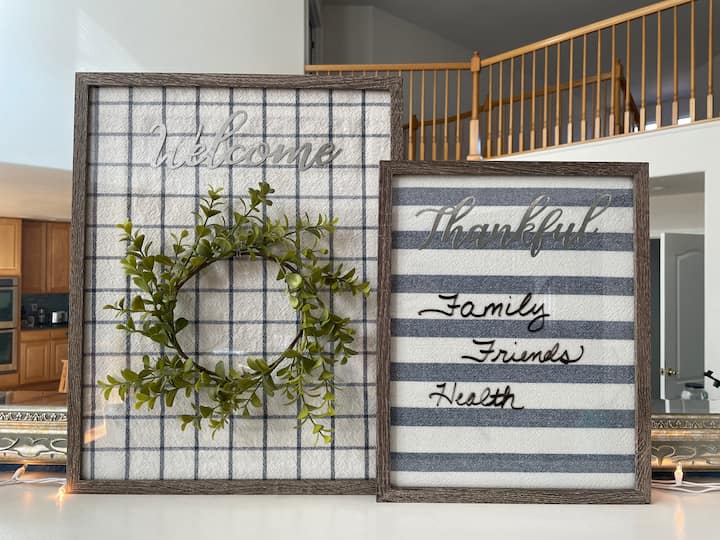 Want to make tea towel art for under $20? This easy DIY hack turns tea towels into art that can be used all year round! You can find the full tutorial at Tea Towel Art Hack Easy DIY
Every day I write down 3 things that I'm grateful for, it's part of my life after breast cancer practice. You can find the full tutorial at DIY Reusable Grateful Board
What is a thankful or grateful jar? The holidays are coming and I came up with a simple and inexpensive thankful jar project that was easy to make, cause reflection, and become a great conversational piece for our holidays for years to come! You can find the full tutorial at A Thankful Jar For the Holidays
I wanted to make something that is reusable every year for our family to share what they are thankful and grateful for during the holidays. What I love about this project is that it can be changed up easily for all the different holidays and celebrations we have all year long. You can find the full tutorial at Thankful Dry Erase Board for the Holidays
Shop any of these stores and I receive a small commission at no cost to you.
Find out what it means be grateful?
What does it mean to be a grateful person?
You are grateful for what you have, you live in the moment and appreciate the here and now. You are also thankful for what you have, and what you've been given. Find joy in everything you can.
What is the definition of being grateful?
According to the dictionary, it is pleasure or contentment.
Why being grateful is important?
Finding things to be grateful for is an important way of living in the moment and being present. Finding joy and things that make you happy every day whether they're big or small.
Does grateful mean thankful?
Grateful is an action, while thankful is a feeling.