Want to make tea towel art for under $20? This easy DIY hack turns tea towels into art that can be used all year round!
Here are the materials you'll need
How do you frame decorative tea towels?
Here are the instructions
Clean your picture frame
Iron your towel and this is an optional step depending on what you're going for.
3. Place your towel inside the picture frame.
4. Place your back onto the picture frame. You could trim off the excess or use painters tape to hold the extra portion of the towel out of the way. I prefer keeping the towel intact incase I would like to use the towel for something else later.
Another option would be to fold the towel inside the frame and then place the back onto the picture frame.
Now you could stop here, but I'm going to show you want I decided to do with mine.
5. I placed galvanized words behind the glass and on top of the towel for both pieces.
6. Use as a dry erase board.
For this piece I'm using it as a thankful board. Everyone can write messages on the board of things they're grateful for. When you're ready you can erase the words and start over. You could also use this as a list, reminder, or welcome board that is reusable.
7. For the other board, I placed a clear command hook onto the picture frame glass underneath the galvanized word.
8. Place a wreath on the hook on the picture frame.
The great thing about this hack is that you can change up the wreath every season.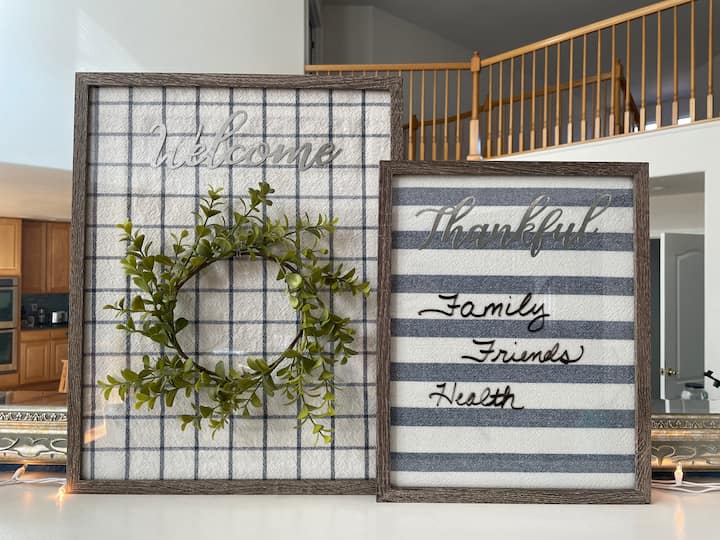 I love how this art turned out!
How do you frame decorative tea towels?
Iron the tea towel, place inside the frame, and close the frame up.
What is the difference between a tea towel and a kitchen towel?
Kitchen towels are most often made of terry cloth, and tea towels are made of cotton. They are sometimes called dish towels and are meant more for drying dishes.
What is the difference between a tea towel and a flour sack towel?
Both types of towels are made from cotton. Flour sack towels are sometimes thicker and more absorbent than tea towels.
What material is a tea towel?
Tea towels are most often cotton or linen.
Shop any of these stores and I receive a small commission at no cost to you.
Find out "What Exactly Does It Mean To Repurpose Or Upcycle", save money, and create the most amazing things.