How To Clean Oven Glass Window, It's So Easy!
Is your glass oven door dirty? Here is a tutorial showing you a step-by-step guide on how to clean the inside of your oven door with no harsh cleaning products or harsh chemicals. Today I will show you the baking soda method. This is a simple process that can also be used to clean glass panes or interior glass in other kitchen appliances.
How to Clean Oven Glass Window materials
Baking Soda
white vinegar and water mixture
Spray Bottle
Old rag & towel
Optional – painters tape
*Above is the inside of my oven glass door. I did a test run of this in November after the holiday season and was happy with the results. My oven window glass isn't as dirty this time since it's only been 1 month but I wanted to share the directions with you.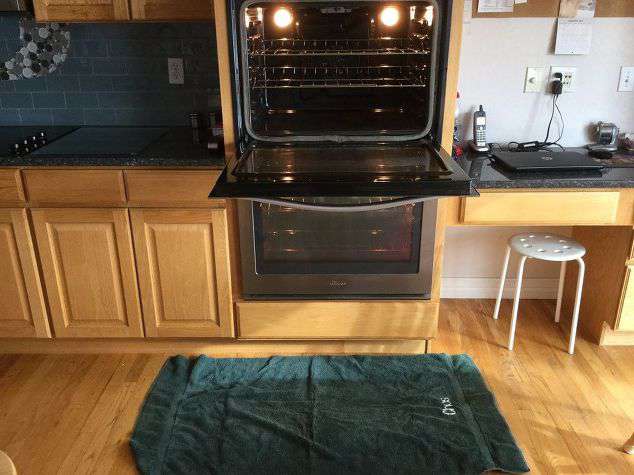 How to Clean Oven Glass Window instructions
It's a good idea to lay an old towel on the floor under your oven door for anything that spills over.
If you have vents on your oven door, cover them with painter's tape so nothing will get inside the door.
Cover the window with baking soda. (You don't need this much, I learned this – you can just sprinkle some on.)
Squirt the baking soda with a vinegar and water mixture.
I did a ratio of 1:10, 1 part vinegar, 9 parts water. (My squirt bottle has numbers to help me do this part).
You want the baking soda to get damp but not drenched. You are making a paste.
Get an old washcloth wet and squeeze out the excess.
Start scrubbing the paste with the damp washcloth. Gentle scrubbing is fine, it doesn't have to be hard scrubbing.
Keep working around the glass, if you see a black spot scrub at it a bit. It won't take a ton of effort.
I also scrubbed the black metal around the window and cleaned that up as well.
Clean up your mess.
I used my vacuum cleaner, but you could use a small broom and dustpan.
I recommend using a wet-dry shop vac if you have a bag in your vacuum cleaner so it won't clog.
Wipe up the extra mess of baking soda. I did this a couple of times.
When I thought I got most of it up, I got a fresh old washcloth wet, squeezed it out, and wiped it one more time with clean water.
And there you have it, a clean oven door!! I am very pleased with how easy this was and how clean my window got with very little effort and no harmful chemicals.
Other tips for cleaning your oven door glass:
You can use a razor blade to clean the glass
You can use a paper towel, I just like using reusable items and washing them.
You can use a glass cleaner, but I don't personally like putting those chemicals where my food will be.
While you're at it clean your oven racks
You can use your self-cleaning cycle if you have one instead, and you can do this after the cycle if it didn't get all of the way clean.
You can use a magic eraser.
Make a paste with Dawn dish soap and some baking soda and place on baked-on grease. Use a plastic scraper to get some of the stuck-on residues off. Clean off with fresh hot water or warm water. You can also use it to clean oven glass doors or the entire oven. It's the best oven cleaner.
Don't use baking soda on stainless steel as it will scratch it, and use a clean microfiber towel on those surfaces
You can use a non-scratching or abrasive scouring pad
It is not recommended to use a coat hanger to get grease stains between the glass in the door, or open the door which will often void the warranty. Make sure to read your oven manual first before trying.
When using your self-cleaning feature it may omit an odor when burning the debris inside the oven and turning it into ash. You can always crack your interior windows to help.
Organic Cleaning – DIY Recipes and Tips To Clean the Chemical-Free and Natural Way
When cleaning your home there are amazing ways to be efficient with your time as well as minimize the chemicals in your home. In this book, you'll learn what natural and organic products to use, the recipes to create, how to use the cleaners in your home, tips, and tricks, and how inexpensive it is to clean naturally. So what are you waiting for? Start cleaning organically and naturally today!
How to Clean Oven Glass Window Video
Shop any of these stores and I receive a small commission at no cost to you.
Learn more about "Why to Deep Clean and Organize Your Home" to save money, function better, and keep your sanity.
Here's why you shouldn't use chemical oven cleaners – Why Oven Cleaners Are Bad for Your Health
Check out some of my other kitchen cleaning posts!