Is your oven window dirty? Here is a tutorial on how to clean oven glass window on the inside with no harsh chemicals.
How to Clean Oven Glass Window materials
Baking Soda
Vinegar/Water Mixture
Squirt Bottle
Old wash cloths & towel
Optional – painters tape
*This above is the window on the inside of my oven. I did a test run of this in November after Thanksgiving and was happy with the results. My oven window isn't as dirty this time since it's only been 1 month but I wanted to share the directions with you.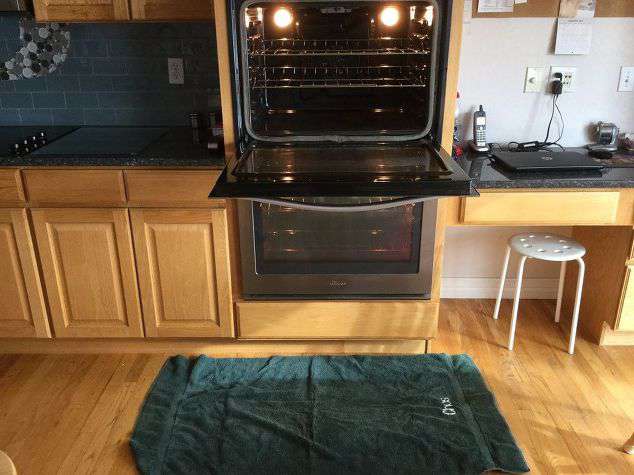 How to Clean Oven Glass Window instructions
I recommend laying an old towel on the floor under your oven door for anything that spills over.
If you have vents on your oven door, cover them with painter's tape so nothing will get inside the door.
Cover the window with baking soda. (You don't need this much, I learned this – you can just sprinkle some on.)
Squirt the baking soda with a vinegar and water mixture.
I did a ratio of 1:10, 1 part vinegar, 9 parts water. (My squirt bottle has numbers to help me do this part).
You want the baking soda to get damp but not drenched. You are making a paste.
Get an old wash cloth wet and squeeze out the excess.
Start scrubbing the paste with the damp wash cloth. Gentle scrubbing is fine, it doesn't have to be hard scrubbing.
Keep working around the glass, if you see a black spot scrub at it a bit. It won't take a ton of effort.
I also scrubbed the black metal around the window and cleaned that up as well.
Clean up your mess.
I used my vacuum cleaner, but you could use a small broom and dustpan.
I recommend using a wet-dry shop vac if you have a bag in your vacuum cleaner so it won't clog.
Wipe up the extra mess of baking soda. I did this a couple of times.
When I thought I got most of it up, I got a fresh old washcloth wet, squeezed it out, and wiped it one more time.
I am very pleased with how easy this was and how clean my window got with very little effort and no harmful chemicals.

Organic Cleaning – DIY Recipes and Tips To Clean the Chemical-Free and Natural Way
When cleaning your home there are amazing ways to be efficient with your time as well as minimize the chemicals in your home. In this book, you'll learn what natural and organic products to use, the recipes to create, how to use the cleaners in your home, tips, and tricks, and how inexpensive it is to clean naturally. So what are you waiting for? Start cleaning organically and naturally today!
How to Clean Oven Glass Window Video
Shop any of these stores and I receive a small commission at no cost to you.
Learn more about "Why to Deep Clean and Organize Your Home" to save money, function better, and keep your sanity.
Here's why you shouldn't use chemical oven cleaners – Why Oven Cleaners Are Bad for Your Health