Light Housework, Keep Up Easy with these Tips and Tricks
Are you wondering how to keep up with your housework? Here are some easy tips and tricks to make light housework.
There is nothing worse than trying to keep up with working full time, raising children, and doing the housework. In the perpetual triangle of life, it's often the case that one of these three things will always fall through the cracks. You can't let your job fall through the cracks because that's what's getting your money and paying your mortgage. And you can't let the ball drop on your children, because they deserve the best that you can give them. It's always the housework that people dropped the ball on and it's understandable as to why.
Firstly, housework sucks. The one thing that grown-ups tried to teach you about adulthood is that it's a lot of cleaning and responsibility. The problem is that we never believe them. Instead of wondering how you're supposed to get it all done, you need to come up with innovative ways to keep up with the housework. That means reading things like the iRobot Roomba i4 review and learning which appliances can help you while you also outsource things like window cleaning and house cleaning. You need to be able to keep up with the housework so that you can feel relaxed and rested without feeling like you're stressed and never on top of anything all the time. Below, we've got some tips to help you to keep on top of everything without dropping any balls ever.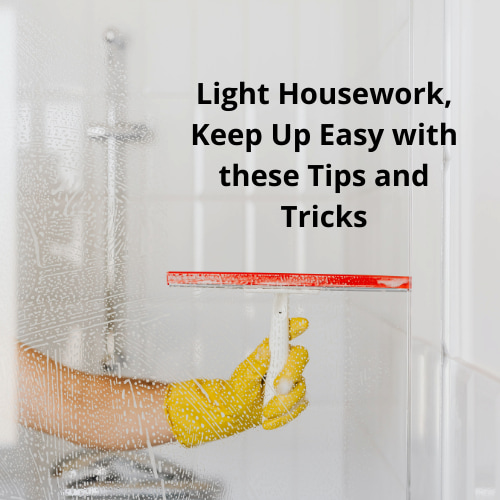 Light Housework Tips and Tricks
Outsourced to the kids. One of the best places you can outsource the housework to your children. If they are old enough to be able to partake in living in your home, they are old enough to help you to clean it. After all, they live there too. Children often make the most mess because they leave toys everywhere, food gets everywhere, and they have a tendency to forget to flush the toilet or clean up after themselves. You don't have to make this a routine, because you can help the children have their own chore routines where they can clean up after themselves as they go. Outsourcing to the kids? It's a parenting hack.
Just get it done. Don't spend time watching Netflix when you could just use 20 minutes to clean things in your home. All you're doing is wasting your own time here, and honestly, the faster you just get it done faster your house is clean again. You can lose a lot of productivity sitting around watching TV and while it feels good to do it, you're going to be staring down the barrel of a dirty home to look after.
Set your expectations. What does clean mean for you? Is the surface clutter cleaned up? Or do you mean a deep clean where even the baseboards are done? People have different ideas of what clean, and tidy look like, and so you need to set your expectations of yourself and your family. Keeping up with the housework is not the easiest thing to do, but it's not going to help if you just push the dirt around. It can often help to start to pick up the big things, clean the medium things, and then get into the nitty-gritty of the house such as the carpets and the windows.
Break it down. If you take 15 to 20 minutes every day in each room just to pick up the surface stuff and wipe down the dusty surfaces you will be able to keep up with the housework with ease. You'll find it so much simpler to be able to work your way from room to room and stay on top of your kids and your job if you are just doing a little at a time.
Shop any of these stores and I receive a small commission at no cost to you.
Check out some of my other similar posts!