What materials can be used to make a lampshade? How do you make an old lampshade look new? How do you revamp a lampshade? I found a cute lamp at a thrift store and I'm sharing my DIY lampshade idea. This is an easy DIY project to makeover a plain lampshade and no sewing machine is required!
This post is in collaboration with Fabric Wholesale Direct. All thoughts and opinions are my own. A big thanks to Fabric Wholesale Direct for providing me with the fabric.
I found this fun mason jar lamp at a local thrift store for $4.99!
DIY Lampshade Makeover Video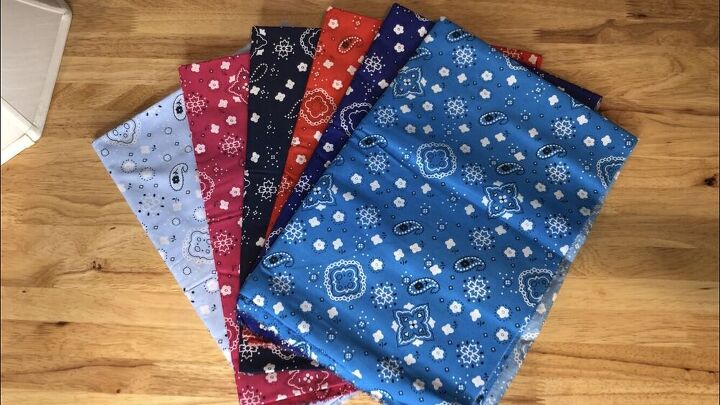 When thinking of what I wanted to do with this lamp, I got my inspiration from a lampshade I saw on a trip.
I found this fun bandana fabric in a variety of colors at Fabric Wholesale Direct! I knew this would be the perfect way to update this white lampshade. You could also do this project using ribbon.
I picked out the colors I wanted and it was shipped to my home.
I used scissors and cut strips of the fabric from each of the colors.
I didn't worry about measuring it, I wanted it to be imperfect.
I placed the strip of fabric on the front of the lampshade, and used my hot glue gun to glue the the fabric to the top of the lampshade and the bottom of the lampshade. You could also use fabric glue to adhere the fabric to the lamp shade.
I continued with the next strip of fabric, and overlapped the first. I hot glued that strip into place and then continued to layer all the colors.
I then repeated the colors until I got all the way around the lampshade.
The base of this lamp was a mason jar. I emptied out the old potpourri, and washed it out. I added a strand of LED lights into the jar. This would create a lightning bug or firefly look.
I left the switch on the outside of the jar and hot glued it onto the lid so that I could turn it on and off with the lamp.
I put the lamp back together, and it was ready!
I'm so pleased with how the lamp turned out. It'll be going in our mountain condo and I think it'll fit in nicely.
Thank you to Fabric Wholesale Direct for providing me with the material to complete this DIY Lampshade Makeover project.
DIY Lampshade Makeover Video
Shop any of these stores and I receive a small commission at no cost to you.
This month's projects had to feature a lighting project. Check out my friend's awesome posts.
Tarah (Grandma's House DIY) – Creating a Moody Speak Easy with Light
Mary (Life At Bella Terra) – How to Clean a Crystal Chandelier
Amy (Health Home & Heart) – Wireless Under Cabinet Lighting
Andrea (Design Morsels) – How To Paint A Chandelier
Kim (Shiplap & Seashells) How to Create a Mercury Glass Lamp Base with a Twist
Kristin (White Arrows Home) 3 Christmas Lighting Projects
Niky (The House on Silverado) Cozy Lighting Tips & Tricks
Kippi (Kippi At Home) DIY Wooden Lanterns
Find out "What Exactly Does It Mean To Repurpose Or Upcycle", save money, and create the most amazing things.
Check out some of my other lamp posts!