Easy Fall Porch Decorating
Fall is coming and it's one of my favorite times of year. I'll share some of my favorite and easy fall porch decorating ideas with you.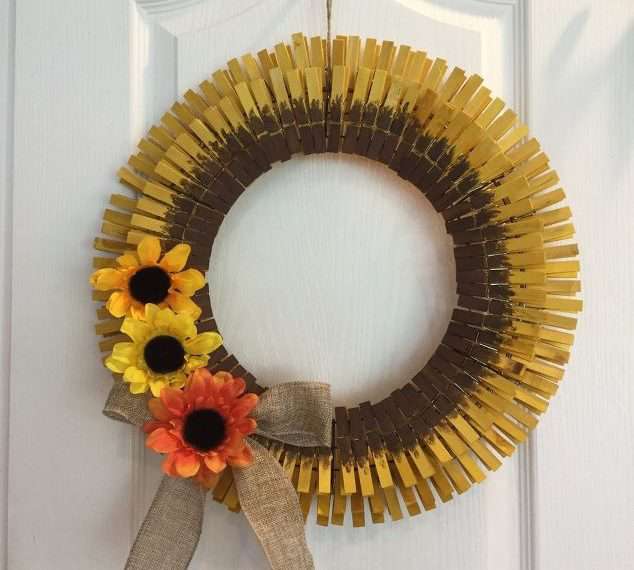 I made this sunflower wreath several years ago and I still love it to this day. I put it up and get tons of compliments on it.
A little Rit Dye, some clothes pins, a wreath form, and a few finishing touches and you have a sunflower wreath. Its' inexpensive and easy to make your own easy clothespin sunflower wreath.
In the past I made a flower pot Nutcracker. He was so much fun to make, I decided to try making a flower pot scarecrow for fall! He turned out so cute, and now I have some of these flower pot creations for every season – Nutcracker, Bunny, Uncle Sam, and more.
I was messing around with the wooden crates at Walmart and inspiration stuck! I wanted to make a vintage little red pick up truck that I could use around my home. The best part – you can use this all year for all seasons! He's all dressed up and ready for fall.
I found this old wooden plaque at thrift store for $1. I brought it home, gave it some TLC and love, and made myself a new autumn sign for the fall. It sits on my plant stand and welcomes everyone as they arrive on my porch.
As we transition from summer to fall sometimes it can be hard to decide what to put up on your porch or in your home. I took some jars, beans, and popcorn kernels, and made a simple and inexpensive display to put in your home or on your porch.
Easy Fall Porch Decorating Videos
Shop any of these stores and I receive a small commission at no cost to you.
Check out these other Fall Tours
Please start with my friend Jenna at The Painted Apron and check out her lovely tour.