Use this very easy project as a decoration, gift idea, or boo boo bunny! Great for kids, grand kids, baby showers, and more. Kids can get in on the fun and help make this project too!
I'm teaming up with some amazing bloggers to share ideas for Easter baskets this season… links and information to follow this tutorial.
You will need:A wash cloth, A plastic Egg, 2 google eyes, 1 small pom pom, Ribbon, 2 rubber bands, Hot glue or glue of your choice, *Optional freezable ice cubes
First roll 2 corners of the wash cloth into the center.
Fold in half and put a rubber band around the center.
Fold the corners up to form the head and ears and use a rubber band to hold in place.
Glue on the eyes and nose.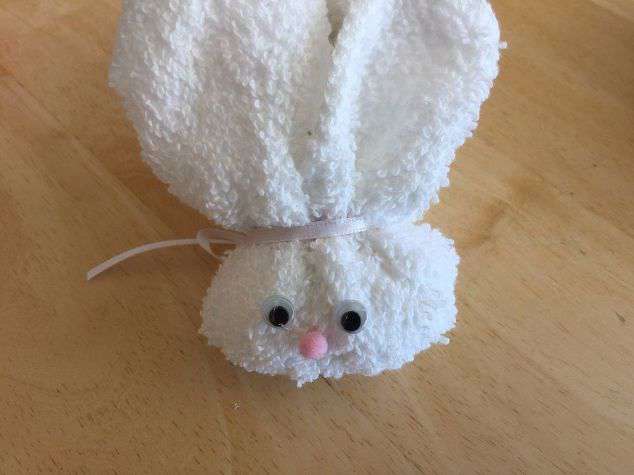 Tie a ribbon around the neck to hide the rubber band.
Freeze your freezable ice cubes.
Place your plastic ice cubes into the plastic egg. Or your desired treat if not using it for "boo boos". Close the egg.
Place the egg in the center of the bunny.
Use different colored wash clothes for different colored bunnies.
If using as a boo boo bunny, hold the bunny and ice cubes over the "boo boo" and it'll feel better soon.
Click the video to see me create this!
Learn more about "Creating Seasonal Decor for Your Home" to create seasonal decor that doesn't cost an arm and a leg.
SHOP AND SUPPORT CHAS – SHOP ANY AMAZON LINK THROUGH THIS WEBSITE AND CHAS WILL RECEIVE A SMALL PORTION OF THE SALE AT NO COST TO YOU!
Check out these Amazing Blogger's BAsket Ideas!