Grill Cleaning Hacks Put to the Test: Cleaning A Weber Grill
Cleaning a Weber Grill, or any grill for that matter, how do you do it? There is so much out there, and in this post, we'll go over what works and what doesn't.
Discover effective grill cleaning hacks for your Weber grill in this informative blog post. Learn how to remove residue and grime from the grill grates, flavorizer bars, and other components using vinegar, Dawn dish soap, and other readily available materials. Keep your Weber grill clean and maintain its performance for delicious grilled meals all summer long.
Today, we're going to be putting some grill cleaning hacks to the test on our gas grill, specifically focusing on how to clean a Weber grill. As avid Weber grill users throughout the summer, we've come across various hacks, and we're here to share which ones actually work and which ones don't. This isn't just limited to a Weber grill though, you'll find several tips and tricks that will work for a variety of grills like charcoal grills. We'll be cleaning the inside and exterior. Let's dive right in!
Cleaning A Weber Grill Video
Cleaning A Weber Grill
Hacks That Don't Work
Onions: Some people suggest using onions to clean the grill, but we found that onions don't work well and only create a messy situation. We recommend avoiding this hack altogether.
Coffee: Coffee contains acidity that can help with cleaning, but we've discovered a better alternative. Instead of using coffee, try using vinegar, which also contains acidity. Plus, you can enjoy your coffee separately.
Materials List:
Testing Different Methods
To determine the best cleaning method for our Weber grill grates and flavor bars, we decided to conduct an experiment using ammonia, vinegar, Dawn dish soap, and garbage bags. We'll uncover the best Weber grill grate cleaner. Here's what we did: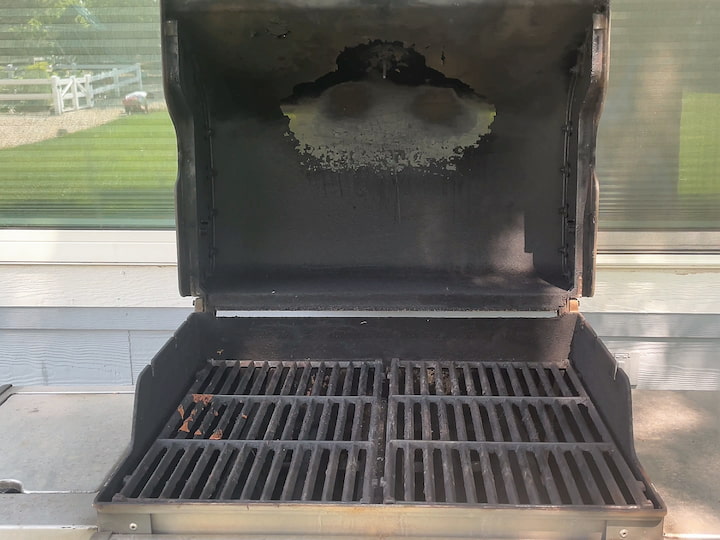 What is the best way to clean Weber grill grates?
Removing the Grates: We started by removing the grates and flavor bars from our trusty Weber grill.
Vinegar and Ammonia Method: For the first grate, specifically the Weber grill grate, we placed it in a garbage bag and added three cups of vinegar and three cups of ammonia. After sealing the bag, we let it soak for 24 hours.
Dawn Dish Soap Method: For the second grate, also from our Weber grill, we placed it in a garbage bag and added water to coat the rack. Then, we added half a cup of professional Dawn dish soap to the bag, sealed it, and let it soak for at least 18 hours.
Vinegar Soak: The flavor bars from our Weber grill were placed in a separate garbage bag, and we soaked them with vinegar overnight.
While the grates and flavor bars were soaking, we moved on to cleaning the Weber grill itself.
Cleaning a Weber Grill
What is the best way to clean the inside of a Weber grill?
We'll be cleaning the outside of the grill as well as the inside of the grill.
Removing Loose Particles: Using a grill brush (like a stainless steel bristle brush), we started scratching away at the loose pieces on the Weber grill. Both sides of the brush can be used to effectively remove residue. You could alternatively use steel wool.
Applying Vinegar: To tackle stubborn residue on the Weber grill, we filled a squirt bottle with vinegar and sprayed it all over the grill grates. After letting it soak for a while, the acidity in the vinegar helps loosen the grime.
Scrubbing: Using the grill brush, we continued scraping away the residue on the cooking grates of the Weber grill until all loose particles were free. We also scraped the burners and the bottom tray (drip pans, drip tray, or grease trays) of the grill to remove any food debris. Cleaning the Grease Pan: We removed the grease pan from the Weber grill and washed it out using soapy water. To simplify the cleaning process, you can use disposable tin foil pans instead of a regular pan.
Can you use dish soap to clean the outside of a Weber grill?
Washing: I made a bucket of soapy water to clean the outside of the grill.
Can you hose down the inside of a Weber grill?
Rinsing: We rinsed off the Weber grill thoroughly, ensuring to remove all the residue and cleaning agents using a hose or bucket of water.
Drying: Finally, we let the Weber grill air dry or wiped it down with a towel. To prevent fingerprint marks on stainless steel surfaces, moisturizing is necessary. You can use stainless steel cleaner or even avocado or olive oil to wipe down the grill, removing excess with a rag or microfiber cloth.
Other mentions:
Use a shop vacuum to clean out any chunks and ash
Dry off any cast iron to avoid rust
When cleaning your grill lid, note the difference in coatings and what they need. ie porcelain enamel and porcelain coating require different cleaning from stainless steel lids.
While you're at cleaning, wipe down the card, propane tank, etc.
Evaluating the Cleaning Methods
After 24 hours of soaking, we opened the garbage bags and examined the results of each cleaning method for our Weber grill. Here's what we found:
Flavor Bars: The vinegar soak method worked exceptionally well for cleaning the flavorizer bars. They came out looking almost new, with most of the grime dissolved.
Grates – Vinegar and Ammonia Method: This method left the grates looking cleaner, but they still required a significant amount of scrubbing to remove the remaining residue. It was effective but not as impressive as we had hoped.
Grates – Dawn Dish Soap Method: The grates soaked with Dawn dish soap appeared noticeably cleaner, and the residue came off more easily during scrubbing compared to the vinegar and ammonia method.
Once all of the grates were cleaned, I rinsed them off and placed them into the grill.
Shop any of these stores and I receive a small commission at no cost to you.
Cleaning A Weber Grill Video
Related Articles:
Cleaning A Weber Grill Conclusion
Based on our experiment, we discovered that using Dawn dish soap and vinegar produced the best results for cleaning a Weber grill. Additionally, soaking the flavor bars in vinegar effectively removed the accumulated grime.
Remember, it's crucial to clean your Weber grill regularly to maintain its performance and longevity. By incorporating these cleaning methods into your routine, you can enjoy delicious grilled meals without worrying about residue or build-up.
Stay tuned for more grill cleaning hacks and tips, as we continue to explore ways to enhance our grilling experience. Happy grilling and happy cleaning!
Disclaimer: Always follow the manufacturer's guidelines and safety instructions when cleaning your grill. Use cleaning agents in well-ventilated areas and keep them away from children and pets.