How To Stencil With A Printable
Can't find the stencil you want? Today I am sharing how to stencil with a printable.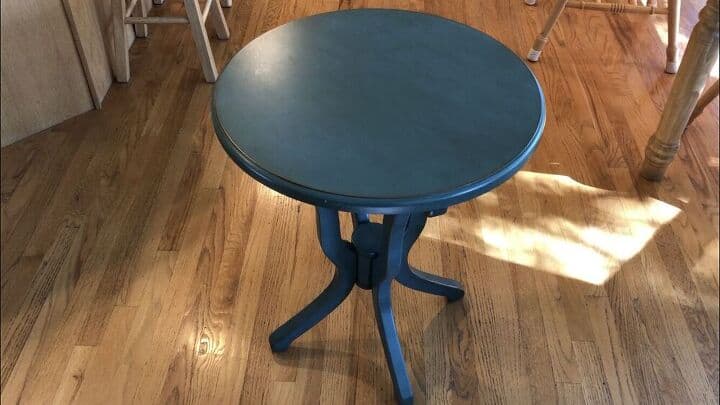 Here's a table I picked up on Facebook Marketplace. I thought it would need some work but the table was actually in great shape and from Pier One Imports. The main color was green and it had some gold trim. My daughter was heading off to college and the school colors happened to be green and gold.
How To Stencil With A Printable Video
I cleaned the table from top to bottom with Krud Kutter. This would also prepare the top for stenciling.
I went online looking for something that would help me stencil this table with Colorado State University. I found this Halloween pumpkin carving of Cam the Ram. I printed it out on card stock, and cut out the shaded areas.
I used Folk Art stencil tape to hold the printable stencil onto the table.
I used white Folk Art Home Decor Chalk Paint and my Plaid stencil brush. I dipped the stencil brush into the paint, then off loaded as much of the paint as possible to prevent bleeding under the stencil. I then tapped the stencil brush onto the table.
When I was done stenciling I peeled the stencil off the table and let the paint dry.
After the paint dried I use Folk Art Home Decor Varnish to protect the table top. I placed 2 coats onto the table following the back of the bottle apply.
I let everything dry and cure according to the bottle instructions.
I'm thrilled with how the table turned out, and my daughter loves it.
If you could make your own stencil for a table, what would it be? Drop the answer in the comments please.
How To Stencil With A Printable Video
Shop any of these stores and I receive a small commission at no cost to you.
Click here for Plaid Enterprises, Inc. Disclosure @PlaidCrafts #PlaidCrafts #PlaidCreators
Find out "What Exactly Does It Mean To Repurpose Or Upcycle", save money, and create the most amazing things.