Entertainment Center Makeover: Easy and Quick with Video
Are you ready for a simple entertainment center makeover? When we bought our home, it came with a built-in entertainment center. We were very excited about this. Now as the years have passed and the shapes of TVs have changed, we were left with a big mess in the cabinets, and a huge hole in the center. It was time to give this built-in entertainment center a facelift!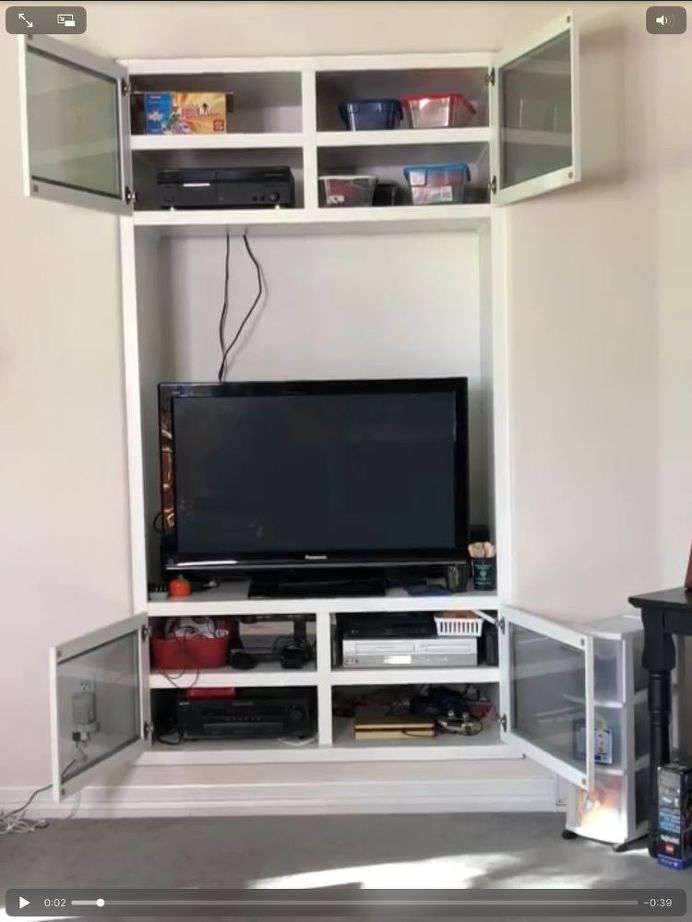 Entertainment Center Makeover Instructions
Here is the before picture of our entertainment center – cords hanging, a giant space above our TV, and way too much stuff in those cabinets… I started by gutting the whole thing, taking it all out, vacuuming the dust, and wiping down the entire space to get it clean.
(When I gutted it to start fresh I found 10 cords connected to NOTHING in the back! You know what else – I had 20 VHS tapes in that space too … we haven't used our VHS player in I don't know how long!)
After everything was clean I put contact paper from Dollar Tree in the large space where the TV goes. All of those cords there have to stay as they are for our "full house" sound system that came with our home.
I love it because I can play music in almost every room of our home including our garage and patio. I can also play audio books and movies (and this I love while I'm cleaning).
My husband then measured the sides on either side of the entertainment center space and marked where we'd be putting steel wall mounting to hang a shelf to break up the huge space. These came from our local hardware store.
Once he marked them he pre-drilled a hole where the screw would go – this will make it easier to drill in the screw. Once the pre-drilled holes were ready, he drilled in the screw. We hung steel mountings on each side of the entertainment center, and he drilled and screwed the top of each mounting first.
After putting the screws in the top, he then made sure the mountings were level and then pre-drilled holes and added the screws to the bottom of each mounting to secure them in place.
After all 4 mountings were up, he then measured for how long our shelf would need to be.
We used a Craft Master's Spruce board that we bought at our local hardware store. He measured and marked where to cut the shelf and then cut it.
He wanted a nice front edge to the shelf so he cut a small piece of wood to be a little longer to the shelf so that he could go edge to edge. He measured the space, marked the wood and cut it to size.
We hung the brackets where we wanted the shelf to sit in the space.
We set the shelf into the space to make sure it fit. My husband then put wood glue onto the front edge of the shelf and placed the smaller piece of wood onto the front to create a nice edge.
He nailed the small piece of wood onto the large piece of wood to be extra secure.
He took the shelf back outside and sanded it with medium sandpaper and then fine sandpaper. After that I wiped it clean with a damp rag.
I painted it with Valspar high gloss white paint to match our entertainment center. I did the entire things with 2 coats, letting it dry between each coat.
While the paint was drying I placed things back into our cabinets in a way that made sense and left no cords exposed.
Once the shelf was dry, we placed it in our entertainment center. We think the space looks so much better.
Easy and Quick Built in Furniture Makeover Video
Here is the video I made with Hometalk.
Shop any of these stores and I receive a small commission at no cost to you.
You might enjoy my TV stand makeover that I did with contact paper – 5 Easy Upcycles Using Contact Paper For Furniture
Items you might need to update an old entertainment center for your living room or family room
piece of furniture, old tv armoire (update yours or grab one at a garage sale)
chalk paint brushes or regular paintbrush or paint sprayer
hinges
coat of paint like annie sloan's chalk paint, fusion mineral paint, dixie belle paint, acrylic paint, spray paint, etc
wood filler
sealer or dark wax
mineral spirits
spray adhesive
backdrop like contact paper to add contrast
clamps
scissors
Items to compliment your new upcycled entertainment center
wire baskets
board games
picture frames
video games
fridge
drawers
add an additional shelf
flat screen tv or go for a wall-mounted tv
puzzles
New Entertainment Center Looks
update the natural wood to dark wood
lighter color like french linen for a french country side look
give it a farmhouse feel
Check out some of my other furniture makeovers!