6 Cheap Simple Front Yard Landscaping Ideas
Do you want some cheap simple front yard landscaping ideas? A few key changes can take your lawn from drab to fab. Read for more details!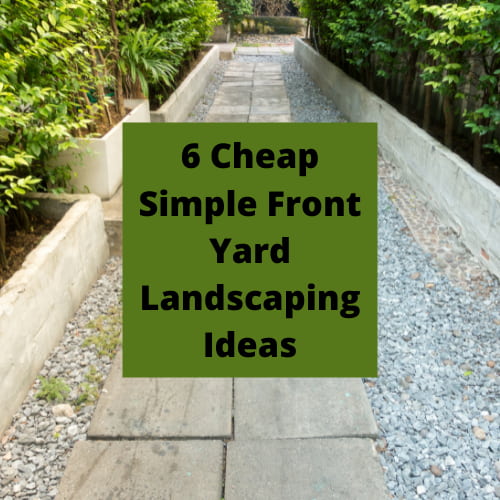 Curating the perfect lawn can be a bit of a process, but seeing the final product is worth it. A well-manicured lawn and beautiful front yard are the perfect way to show off your home and ensure you have the best front yard in the neighborhood. There are many reasons for a lawn upgrade. Maybe you're trying to sell your house and want to improve your home's curb appeal. Or, maybe you're sick of looking at a lackluster lawn and are ready for a new landscape design. Whatever your reasons may be, there are a few key things you can do to give your front yard a new look without spending a lot of money.
Cheap simple front yard landscaping ideas
1. Start with a clean slate
The first step to take for a lawn upgrade is to give it a fresh start! It's always a good idea to remove any existing grass, weeds, and debris that may be taking up residence. If you have a small front yard or small garden you can do this yourself if you've got enough time on your hands and a small budget. If you have a large area you may want to hire a professional lawn care service to help get the job done quickly and efficiently. This is an important step because it will allow you to start with a clean slate and ensure that your new lawn is able to thrive. One of the most trusted experts in the field is Heroes Lawn Care Service. They offer a wide range of services to help you get your lawn in tip-top shape, including debris removal.
2. Invest in quality soil
The first thing you want to address is your soil. A healthy lawn begins with high-quality soil. Soil is a naturally occurring resource that serves as the basis for all plant life. Also, it plays a critical role in water filtration and erosion prevention. Healthy soils are key for food production because they give crops nutrients and support. Secondly, quality soil has the added benefit of aiding in carbon storage and climate regulation. Investing in high-quality soil is a long-term investment. Healthy soils are necessary for a beautiful lawn or garden that produces many harvests. If your soil is deficient in nutrients, growing lush, green grass will be challenging. Test your soil and adjust it with nutrients such as nitrogen, phosphorus, and potassium as needed.
3. Use the right fertilizer
Fertilizer is essential for a healthy lawn, but using too much of it can do more harm than good. Be sure to use a fertilizer that's appropriate for your lawn type and the different plants you plan to use and follow the directions carefully. Over-fertilizing your lawn can lead to weeds and other problems.
4. Water deeply and less often
Water deeply and less often to encourage deep rooting. Watering deeply encourages your lawn to develop a deep, strong root system, which is more resistant to drought and other stresses. It is best to water early in the morning so that the grass has time to dry out before nightfall.
5. Mow high
Another important thing to keep in mind is how you mow your lawn. It is always best to err on the side of caution and mow high. Mowing your lawn too short can damage the grass and roots and make it more susceptible to disease. A mower can be set at different heights. To avoid damaging your lawn, raise the blade on your mower so that it cuts the grass at a higher setting. For most lawns, a set of three to four inches is ideal.
6. Add some interest
Last but not least, don't be afraid to add some visual interest to your outdoor spaces and the front of your house. Here are some cheap landscaping ideas that will make your front yard look great:
Add a small water feature or bird bath (the birds will thank you)
Try outdoor string lights
Place solar lights along the path to the front of the house
Line a walkway or front porch with flower pots filled with colorful flowers, or other types of plants
Create a small seating area
Create a garden bed with perennial plants or ornamental grasses or flower beds with beautiful flowers
The possibilities are endless, limited only by your imagination. This is a great way to show a bit of your personality in your garden design.
With these six lawn upgrades and easy landscaping ideas, you can take your lawn from drab to fab in no time. A little bit of effort can go a long way in achieving the perfect lawn. So, what are you waiting for? Get started today and enjoy your beautiful new lawn in no time. Don't forget to enjoy the process, too! After all, lawn care is supposed to be enjoyable.
Shop any of these stores and I receive a small commission at no cost to you.
More cheap simple front yard landscaping ideas
You might be interested in some of my other lawn and garden posts.